It is Just the Beginning for the UNB Finance Group
Author: Liz Lemon-Mitchell
Posted on Jul 14, 2010
Category: CFS
The economy is obviously a fragile entity, as seen by the recent recession. But now that the world is starting to come back from the economic down-turn, opportunity awaits for finance students that have the right skills. In an effort to learn more about investing, students got together in Sept. 2008, to create the UNB Finance Group. Students wanted get answers for all of the finance questions they had, and learn what it takes to make it in the world of finance. Starting as a class-like setting where members were given presentations on various investment topics, the group has changed dramatically in the past year. Recently, the Finance Group began building a close relationship with the Centre for Financial Studies (CFS), the organizer of the Student Investment Fund (SIF) Program. With the help of the CFS, members are now able to get involved in more finance related events.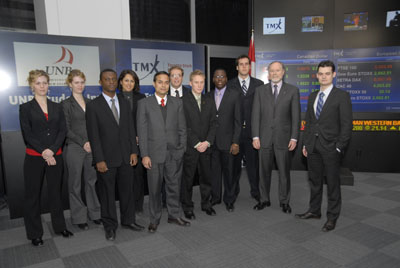 In January, 2010, the Finance Group along with the SIF Program went on a study trip to Toronto where they built professional relationships with current investment specialists. They also had a rare opportunity to open the TSX market during their stay. Read "
Buying vs. Selling – A New Understanding of the Investment Industry
" to hear more about the trip. The Finance Group also attended the futures Atlantic Symposium, an annual conference held at UNB, where finance experts from Eastern Canada share their business knowledge with university students. During the conference, the Finance Group had a chance to meet with Robert Livingston, a senior vice-president with McLean Budden in Toronto and a Merrill Lynch alumnus. He agreed to be the Finance Group's Mentor in Distance. Throughout the year, Finance Group members have been participating in conference calls with Robert to learn about and discuss the wealth management side of finance. Other industry professionals that the Finance Group has met with include, Peter Jarvis, President of the Toronto CFA Society and Colin Ryan (BBA '02), the VP Investment Banking of the Toronto CIBC Wholesale Markets. Peter shared his experience as a bond trader in London and his vast knowledge of the finance world, while Colin shared his career history and gave advice on how to succeed in an interview for an investment banking position. All of the students that have joined the Finance Group have a deep interest in learning something new about finance. From reading financial data to learning about wealth management, members are gaining the skills they need to become knowledgeable investors. Still only in its second year, this is just the beginning for the Finance Group. People are just noticing the potential this group has. The Finance Group provides its members with the opportunity to study, experience, and evolve in the world of Finance and with all of the contacts that these students are making, they will have a much better chance of making a name for themselves in the finance industry.