Finance Professor Recognized for his Achievements
Author: Liz Lemon-Mitchell
Posted on Jul 15, 2010
Category: Faculty Highlights
Some of the greatest moments in academia involve watching deserving professors get awarded for their hard work and dedication to their field. This year we are proud to bear witness to such a moment.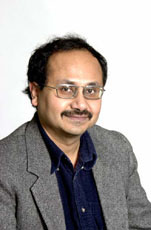 Finance professor, Dr. Devashi Mitra has recently earned his Fellow Chartered Accountant (FCA) designation from the Institute of Chartered Accountants of India (ICAI). 
The fellowship is a rare and honored award from the ICAI and is intended to designate those who have achieved a higher level of professional experience. Dr. Mitra has been a member of ICAI for the past 27 years and this year the president of the ICAI personally sent an invitation to apply for the designation. After close consideration from several committees he was selected for the honour.
Dr. Mitra comments, "While this recognition is mostly given to practitioners in the Accounting profession, it is heartening to receive this designation as a Finance academician."
This is not the first time Dr. Mitra has been recognized for his performance in research, service, and teaching. He was recipient of the UNB Merit Award in 2001 and of the Faculty of Business Administration's Excellence in Research Award in 2002.