Changes in the FBA
Author: Liz Lemon-Mitchell
Posted on Jul 14, 2010
Category: Faculty Highlights
The Faculty of Business Administration has gone through many changes this year, among them a new computer lab and a fresh new website.
It has been quite a long time since any computer lab in Tilley Hall went through a major renovation. Most people don't give computer labs a second thought, believing it's merely another place to go and use a computer.  That's not how Gordon Margison (BBA '07) saw it though.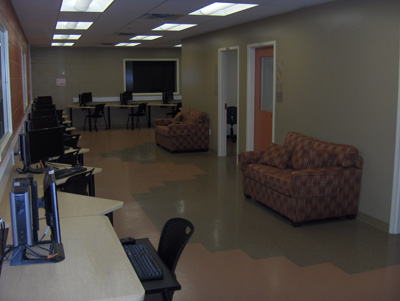 A few years ago, while earning his BBA degree and working as the faculty's Level 1 computer support person, Gordon noticed that too many of the lab computers went unused each day. As a solution to this problem, he came up with a new design that would use the wasted space and transform the bland room with a bunch of computers into a useful hangout.
This year his design came to light. The lab now contains 21 computers and three private study rooms which students can sign-out for group meetings, going over presentations, and studying. Now business students don't have to hope for an empty room at the Harriet Irving Library because they have a spot of their own.
To complement the lab renovations, the FBA's website (link to the website) received a facelift as well. The website was re-designed to match UNB's new look and feel. All faculties and departments are going through the redesign process to give UNB a constant, identifiable presence online. The FBA was the first faculty to roll-out the new design and besides having a great new look, site is now also much more user friendly. Information is now at your fingertips and current and prospective students alike can find everything they need with ease.