22nd Annual Business Awards Dinner
Author: Liz Lemon-Mitchell
Posted on Jul 14, 2010
Category: Alumni Highlights
Over 250 people gathered at the Delta Fredericton last November 5th for the Faculty's 22nd Annual Business Awards Dinner to celebrate the accomplishments of UNB Fredericton's business students and alumni, and to recognize the companies and individuals who support our students with scholarships.
Each year the Faculty recognizes the achievements of alumni who have distinguished careers and have made significant contributions to their communities and professions. This year, the two alumni awarded the Certificate of Achievement were Geoffrey B. Cronin (BBA 1983), President and Area Director, Capgemini Canada Inc. and Karen McKay (BBA 1984), Vice President of Human Resources and Training, Eli Lilly Canada Inc.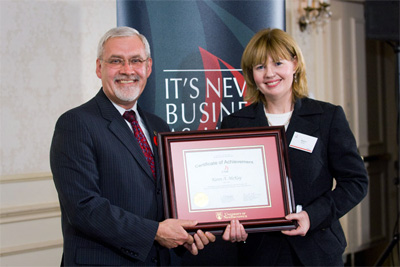 Geoffrey has over 25 years of general management and consulting experience.  He has held executive leadership roles with Ernst & Young, SHL Systemhouse, Manitoba Public Insurance Corporation and Saint John Shipbuilding. He is also a past volunteer with the United Way of Greater Toronto and is a Level II CAHA Minor Hockey Coach and certified ski instructor.
Karen has been with Eli Lilly Canada since 1991 and has progressed through several roles in Customer Relations, Marketing (pricing), Human Resources, and Finance. Karen is a member of The Conference Board of Canada and is an Executive Committee member on the Council of Human Resource Executives (East).  She is also actively involved as a member of the Advisory Board for the Health Sector Stream for the MBA Program at Ivey Business School.
Another highlight of the evening was the achievements of the Faculty's current students. Many of the 150+ students on the Graduate and Undergraduate Dean's Lists were in attendance alongside other award recipients and over $300,000 in scholarships and prizes were recognized at the event.
For more information on the 22nd Annual Business Awards Dinner including full profiles of the Certificate of Achievement recipients and images of the event, click here.