Stay calm and pivot: a lesson in project management
Author: Liz Lemon-Mitchell
Posted on May 25, 2020
Category: Programs , Students , Student Highlights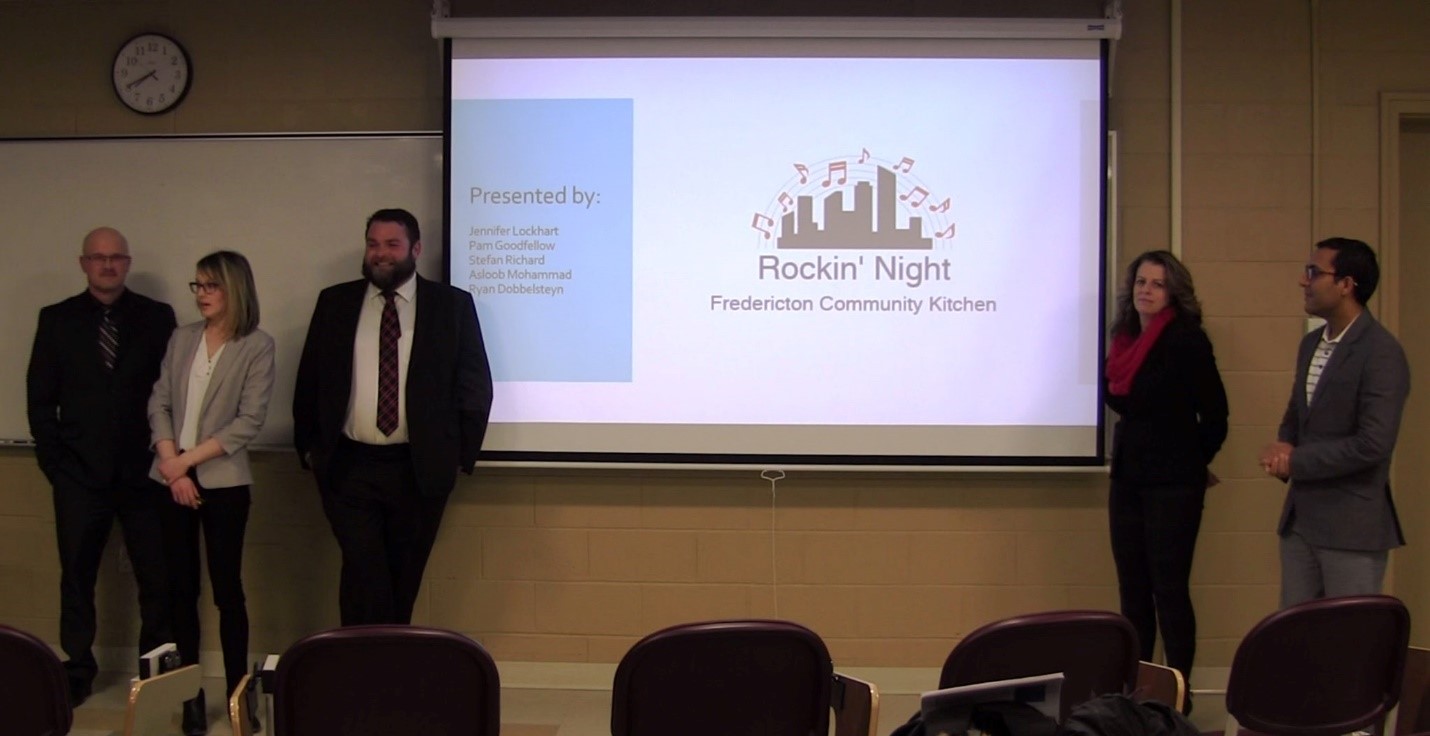 ---
An experiential learning project took an interesting turn for UNB's MBA students taking Project Management this year. Taught by
Dr. Alireza Tajbakhsh
in the faculty of management, the course teaches students the basics of managing projects and has them work on a class project with a local organization to practice what they learn. Students had only just launched a fundraising project they were doing with the Fredericton Community Kitchens when the COVID-19 pandemic happened. As a result of the emergency measures being implemented by the Province, they had to cancel the event, but thanks to the skills they learned in the class they were able to quickly pivot and take the project in a direction they could manage remotely through social media.
The original plan for the project was to increase awareness about the
Fredericton Community Kitchens
and their programs, differentiate them from other organizations in the community like the Fredericton Food Bank and homeless shelters, and increase the number of corporate partnerships. To accomplish this, students came up with the idea of hosting
"A Rockin' Night", a live fundraising event that would take place at Picaroons Roundhouse featuring local bands, a silent auction, door prizes and a 50/50 draw. The evening would also include testimonials from the Fredericton Community Kitchens and from people involved with its programs, including the Student Hunger Program. To help them organize the project, the class received support from
Future Ready NB
through
UNB's Office of Experiential Learning
.
Jennifer Lockhart, one of the students in the class, said that when news first broke about COVID-19, the class quickly included it their overall risk registry. "Once a global pandemic was declared and large gatherings were being cancelled, we knew the event would no longer move forward as planned. We decided as a group in conjunction with our professor and the Fredericton Community Kitchens to cancel the physical event to ensure everyone's health and safety."
When UNB was forced to suspend all face-to-face classes this year because of COVID-19, it was able to move them online thanks to technology like MS Teams, Zoom and D2L Brightspace. The project management students were able to regroup in their virtual classroom and what happened next was to become one of the most valuable learning experiences in the class.
"We needed to find a way to pivot in order to meet social distancing requirements while continuing to prepare some way to help the community kitchens who were having more difficulties than usual as a result of COVID-19," said Ryan Dobbelsteyn, another student in the class. "Instead of holding a physical fundraising event, we used social media to bring awareness to the additional needs of the Fredericton Community Kitchens during these difficult times and provided an avenue for individuals and businesses to donate directly to the kitchens."
"Ultimately, we launched a one-week social media marketing campaign using a donation-matching approach to encourage donations from individuals and businesses in our community," said Lockhart. "The campaign ran from March 29 to April 5, 2020, with an objective of raising $2,000."
Thanks to the knowledge and skills students were gaining from the class, and to their determination to make it work, the project was successful. "We received donations from 30 unique individuals and organizations," says Lockhart, "… and we
surpassed our campaign objective, raising a total of $2,225 for the Fredericton Community Kitchens."
One of the big take-aways from the experience for Dobbelsteyn was how important communication is to staying productive, especially in times of crisis. "By using Microsoft Teams and Zoom our teams were able to meet remotely and make decisions on how the fundraising campaign would happen and how we would distribute the work between our class members. Clear communication allowed us to identify the skills that our team members brought with them and decide how to apply them in the best way to reach our goal."
Learn more about our
MBA programs
.
If your organization is interested in participating in our experiential learning programs, please contact our Experiential Learning Coordinator, Darcy Crowe at Darcy.Crowe@unb.ca.