Two Alumni Receive Certificates of Achievement
Author: Business Faculty
Posted on Nov 29, 2019
Category: Alumni Highlights , Alumni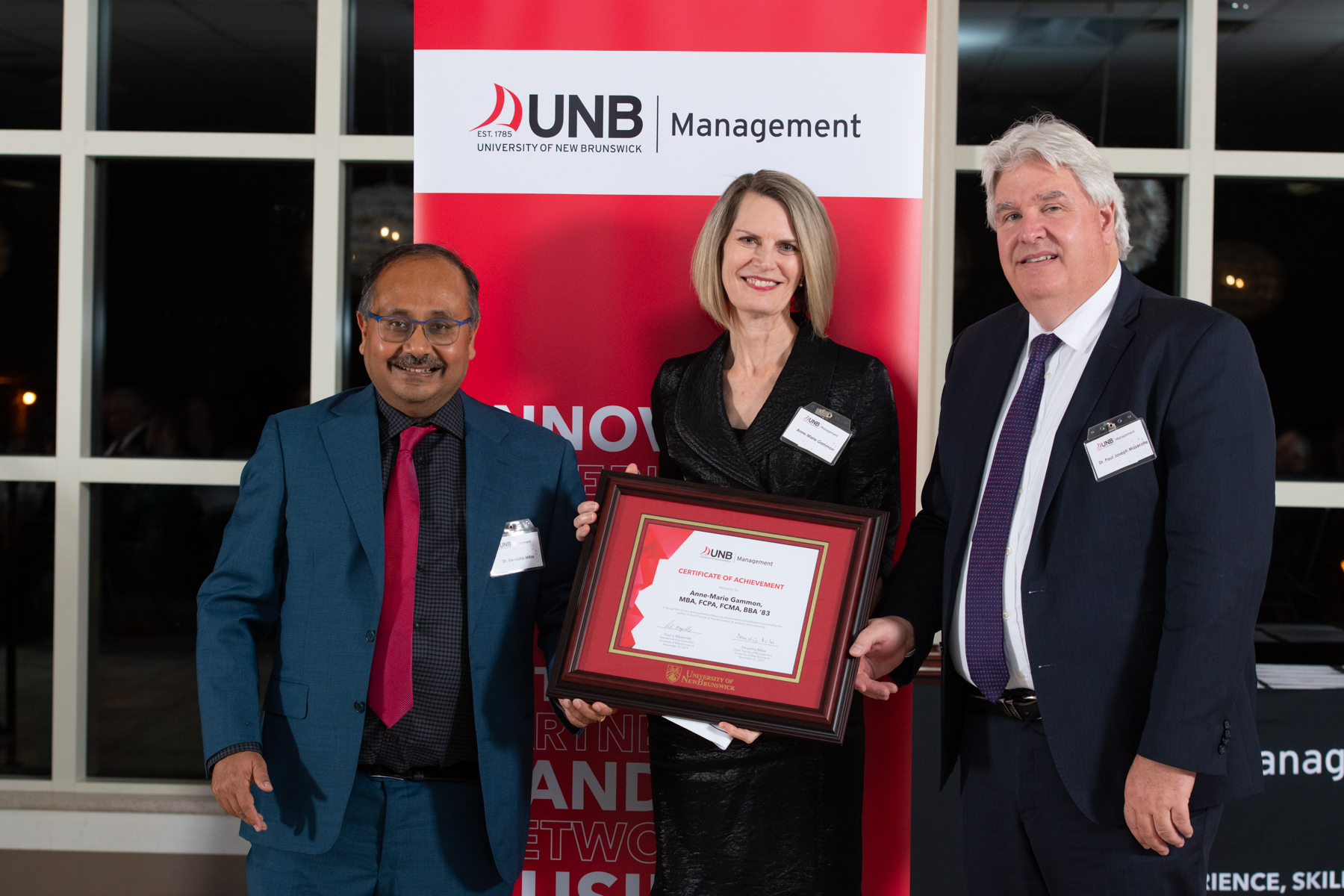 ---
The Faculty of Management held its annual Awards Dinner on November 21, 2019 to recognize students and alumni who have done extraordinary work. In addition to celebrating over 150 students who earned scholarships, awards and Dean's List recognition, two alumni were given Certificates of Achievement for their contribution and achievements.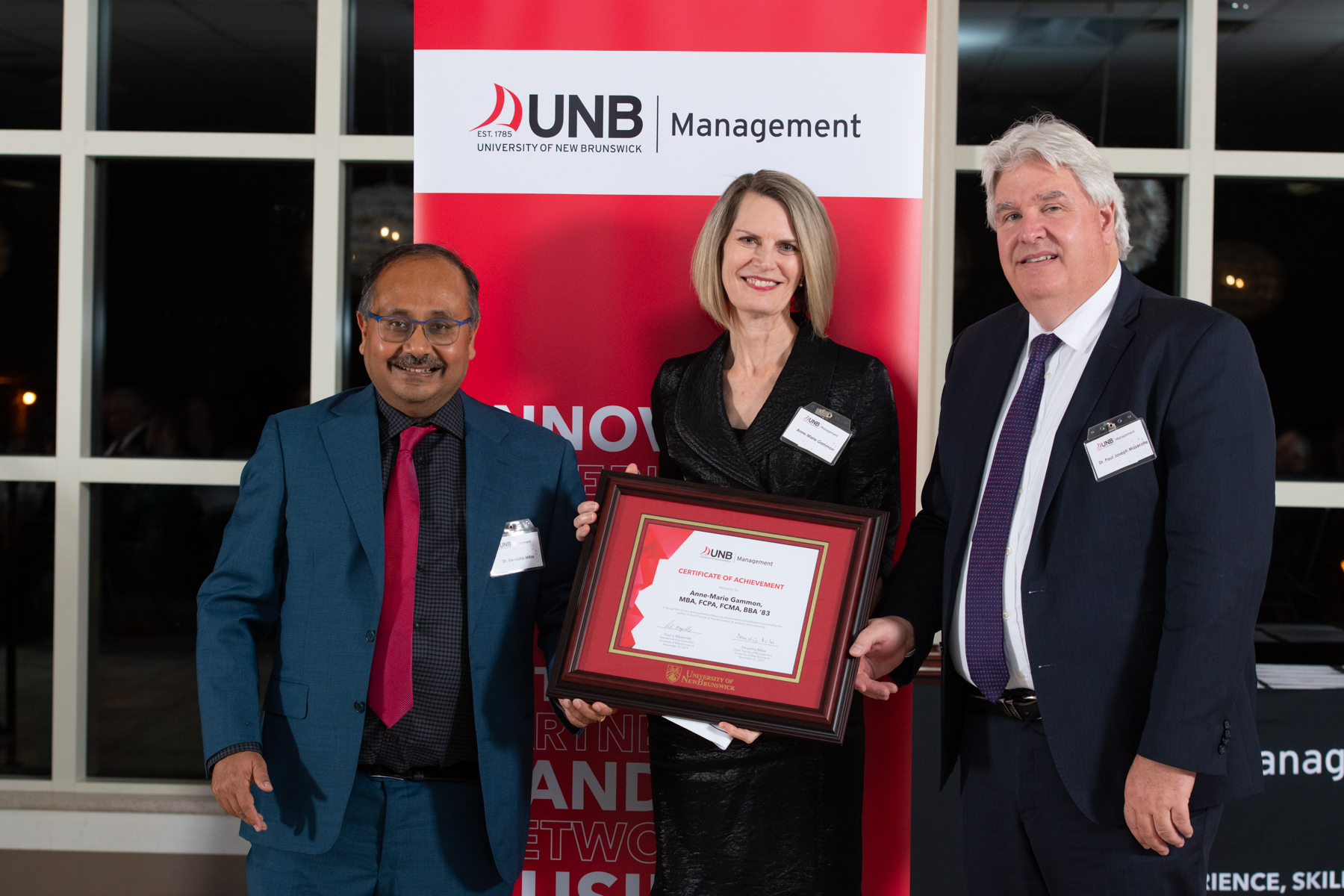 Anne-Marie Gammon (BBA'83) is the inaugural President & Chief Executive Officer of CPA Atlantic School of Business. Bringing over 25 years of senior financial management experience within diverse industries including education, real estate, automotive, aerospace and oil, Anne-Marie is also the past Director, Operations, Education Services with the Chartered Professional Accountants of Canada, Vice President, Program Development for the Certified Management Accountants of Canada and was previously Vice-President, Financial Reporting for ING Real Estate Canada.
An experienced educator who's spent over 20 years delivering the CMA Professional Program, Anne-Marie served on the national CPA Certification Steering Committee established to develop the new pre-certification program to support the unification of the accounting profession in Canada. She has continued to work on various national committees to advance the certification program leading to the chartered professional accountant designation.
Actively involved in her community as a volunteer, Anne-Marie is the past President of Financial Executives International Canada - Atlantic Chapter. She is also past President of CMA Nova Scotia, past Chair of the CMA Canada Research Foundation and past Vice President, At Large with the Canadian Academic Accounting Association. 
After receiving a BBA from UNB, Anne-Marie subsequently received her CMA designation in New Brunswick in 1990. A strong believer in life-long learning, she received a Master of Business Administration from Edinburgh Business School, UK in 2012 and is currently pursuing a Doctor of Business Administration at the same institution. She was nationally recognized with the prestigious Fellow of the Society of Management Accountants' designation in 2003 followed by the award of Fellow of the Chartered Professional Accountants of Nova Scotia in 2015.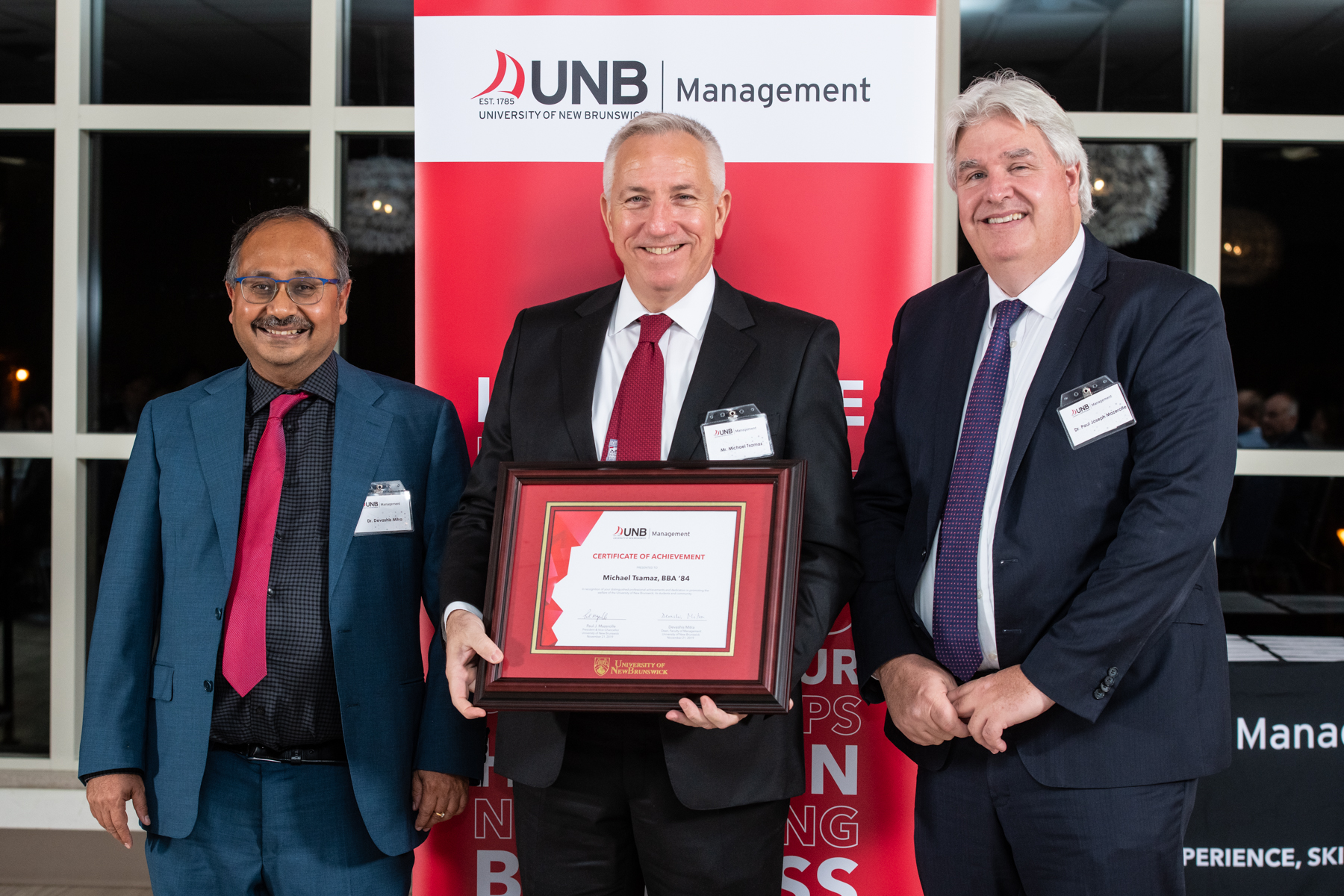 Michael Tsamaz (BBA'84) has headed OTE Group (HTO:GA), the largest technology company in Greece and subsidiary of Deutsche Telekom AG, since 2010. 
Under his leadership, with sustainability as a key driver, OTE Group managed to streamline its financials amidst a 10-year period of unprecedented economic crisis; create new revenue streams; and transform into a modern, customer-centric tech enterprise. It currently generates revenues of €3.8 billion, EDITDA of €1.3 billion and employees over 12,000 people. 
Since 2001, Michael has held several senior roles with OTE, overseeing the course of its international investments, where he reformed operations and served as CEO and as a Board of Directors member for a number of OTE international subsidiaries. 
Before joining OTE Group, he held high ranking positions in marketing, sales and general management for multinational companies such as Warner-Lambert, Vodafone and Phillip Morris International.  
Michael is a strong advocate of technology as a means to sustainable growth. In 2016, he set a new vision for OTE Group to become a digital transformation paradigm in Greece as well as in Europe. From his position as head of the Digital Economy Committee of the Hellenic Federation of Enterprises (SEV) and member of the Athens Digital Council, he focuses on policymaking proposals in order to bridge the digital gap nationwide, while creating awareness for the merits of the new digital era through education. 
At the awards dinner, Dean Devashis Mitra also presented Certificates of Appreciation to CPA Atlantic School of Business and CPA New Brunswick for working with us to align our accounting program with the prerequisites students need to enter the program leading to the Canadian Chartered Professional Accountant (CPA) designation and for supporting our alumni throughout their accounting careers.