Innovating the Restaurant of the Future
Author: Faculty of Management
Posted on Nov 19, 2020
Category: Alumni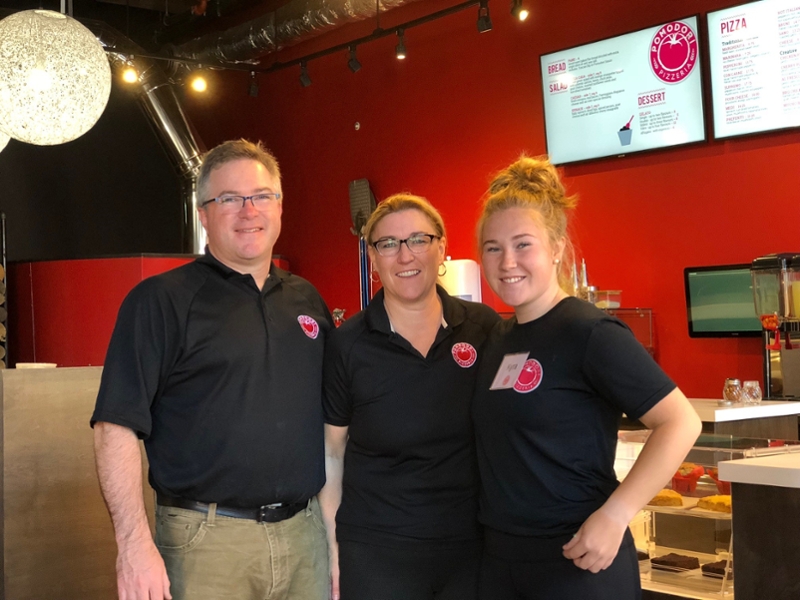 ---
Everyone knows restaurants are a tough business in the best of times.
These are not the best of times.
The COVID-19 pandemic has taken a toll on the restaurant industry globally, and New Brunswick is no exception. When the lockdown happened in March of 2020, the owners of Pomodori Pizzeria in Saint John worked quickly and innovatively to be able to not only stay afloat but turn out even more of their delicious Neapolitan-style wood-fired pizzas.
Being innovative is nothing new for co-founders Janice MacPherson (BBA'92) and Keith Dunphy. The couple met at UNB while taking classes at Fredericton's Faculty of Management. Janice was in her first year of the BBA program doing a case study on a local entrepreneur's company – Keith's. A serial entrepreneur and fellow student, Keith was "future-thinking and always looking for the next new thing." Three years later the couple started dating.
That next thing came to them in Nelson, British Columbia, where they moved after graduation to get into the ski resort/tourism industry. The two created an online bulletin-board service – before the internet was a thing – as a resource where people from around the world could call to get ski, avalanche and highway conditions in the resort areas of B.C. and Alberta. They got some publicity for it and a Vancouver company reached out to ask if they would sell web pages to ski resorts. "This was a totally new thing in those days," Janice explains. "It was pretty exciting."
The problem was, they couldn't get internet access in Nelson. So, they pitched to that Vancouver company to supply them a pipeline to the Internet instead.
Janice and Keith rounded up a group of innovators and an investor to start Net Idea – an internet service provider company providing access to residents and businesses of Nelson. Keith had experience as a part-time lab technician at UNB so he knew the IT world and handled the operations. "In the first year, he physically went to people's houses to get their internet set up. It grew quickly from there and we had to keep adding more and more space for modems. We moved four times in the first three years. In a town of 10,000 people we had 6000 accounts. Even when the big telcom giants came, our customers remained loyal."
Janice says the company also offered web design, development and hosting services. "Even back then – this was the mid to late 90's - we never issued a paper invoice. Everything we did was digital and quite ahead of its time. We built a custom database to keep our subscriptions, invoicing, and customer records."
When they decided to move back home to New Brunswick in 2002 to be closer to family, they continued running the business virtually from Saint John, with 14 staff back in Nelson. In 2008 they handed the company off to their senior employee and turned their attention to finding their next venture.
That, it turned out, would be filling a gap in the restaurant scene.
Janice and Keith had been complaining that there were no places to eat in Saint John with "really good food but served fast so it's kid-friendly." At a lunch out with their co-founder, Stephen Goddard (BBA'88), the group decided they needed to 'put up or shut up'. Around the same time, Stephen was cooking up Neapolitan style margherita pizzas on his BBQ surrounded by refractory brick and the group would just eat pizzas all night long. They agreed on how great the sauce was and learned it came from an old Italian gentleman from one of Stephen's trips to Italy years before. After numerous discussions, a plan was put in place and they developed that tomato sauce recipe even further, researched the best way to make the dough and decided they wanted a concept that was not full service, but one that that would make their pizzas accessible to all. "We wanted to show that wood-fired pizza is truly the original 'fast food' – and that fast food can also be really good food." In 2008, the group opened the restaurant, called Pomodori – which is Italian for 'tomatoes'.
Innovators that they are, Janice and Keith have put all their energy into making Pomodori a "restaurant of the future." Janice says they want to "be an innovator through leading-edge technology, discovery and sharing of delicious foods, with the best environmental design."  
So, when COVID-19 hit, Pomodori was ready. "We were already set up really well with a POS system with the functionality to keep track of labour costs, sales data and inventory from our phones. It integrates with our scheduling software and our accounting software. We can be in the restaurant from literally anywhere. And we have an online store that uses push to text that's quick and easy for customers." Online orders went from 15% of their business to 95% of their business.
"In fact, we have seen fewer orders but we've found that people are ordering more because in addition to our pizzas, the online store showcases our other products much more visually and customers tend to order a salad or pint of gelato each time. We've started bottling our Pomodori sauce and packaging our top-selling flavours of gelato, and soon we will be offering our wood-fired pizzas in frozen format for added convenience."
With two locations - in Rothesay and Saint John - and their first franchise store in Moncton now open and doing well (owned by UNB alumni Mike (BPE'95) and Adrienne (MBA'92) O'Pray), the pair are looking for good franchise partners in other cities.
They continue to review new ideas to make the business even more efficient and the experience even better for patrons living in the new covid-world. That includes high-tech, self-serve lockers that integrate with the online store that allow customers to pick up their pizza when they want it without any contact or even having to go inside the building. "It's completely contact-free and fully automated."
And the restaurant has become a bit of a family business as well. Their daughter Kyra, who is a third-year kinesiology student at UNB, and son Malcolm, who is in his first year of engineering at UNBSJ, also help out. "We try to be future-thinking. Keith is always looking for the next cool tech that we can integrate for a better experience for our customers. We work together on all things marketing and I focus on operations and recipe development. Keith and I complement each other and always have. It's been a fun ride so far."