Executive-in-Residence Program Brings Real-Life Challenges to the Classroom
Author: Liz Lemon-Mitchell
Posted on Feb 5, 2020
Category: Students , Alumni , Programs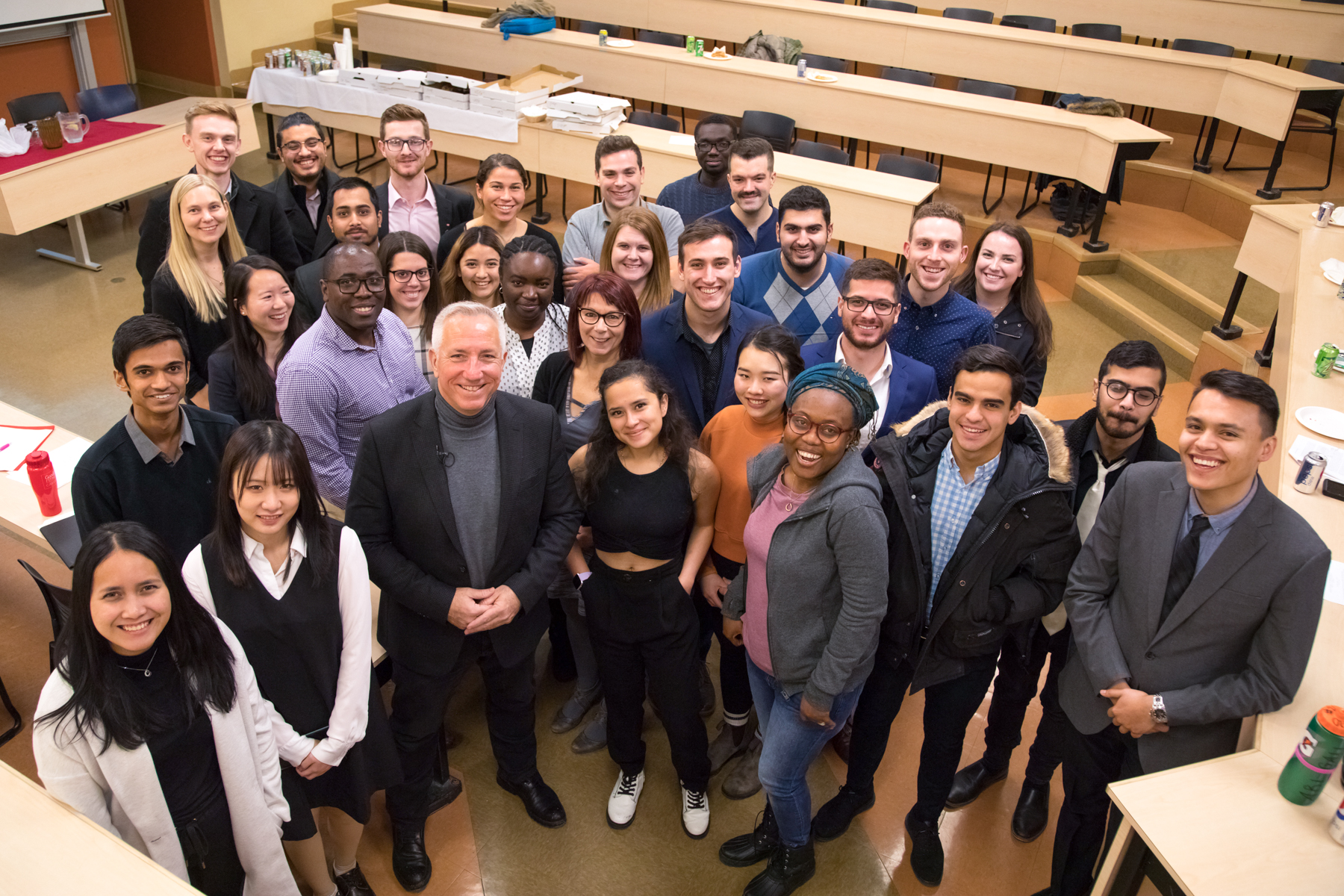 ---
Business professors in UNB's faculty of management often assign case studies in their courses to challenge students to think of how they would use their knowledge and skills to solve business problems. This year, students taking the Strategic Management and Student Investment Fund classes were assigned two Harvard Business Case Studies, OTE: Managing in Times of Crisis (Parts A and B), about the challenges faced by Michael Tsamaz when he became Chair and CEO of the Hellenic Telecommunications Organization, O.T.E., a Deutsche Telekom company based in Athens, Greece.
What made this particular assignment memorable is that on the day students presented their solutions, Tsamaz  - a UNB business alumnus - was in the room to hear what they had to say and talk to them in-person about his experience.
Tsamaz is a 1984 graduate of UNB Fredericton's BBA program. After graduating from UNB, he held positions with companies like Warner Lambert, Vodafone and Philip Morris International before joining OTE in Athens, Greece, in 2001. He held several senior roles with OTE before he became Chair and CEO in 2010.
Under his leadership, with sustainability as a key driver, he managed to streamline OTE's financials amidst a 10-year period of unprecedented economic crisis in Greece, create new revenue streams, and transform it into a modern, customer-centric, tech enterprise, with COSMOTE as the unified brand for its fixed, mobile, internet and pay-TV products and services. It's no surprise Harvard Business School chose to publish two case studies about him.
Last November, Tsamaz visited UNB as Executive-in-Residence to visit classes, consult with students, and share his experiences. He also participated in a public panel address on the Art of Leading. In all his discussions he spoke passionately on leadership, vision, collaborative teamwork and sustainability.
Meeting Tsamaz after studying the OTE cases made the story about OTE's transformation more tangible. "You can only theorize so much from what you learn in class," said Ruthfi Azzahra, a BBA student in the strategy class. "Having Michael come and tell us what he actually did is a whole other level of learning – what better way to learn than from the man that did it himself?"
Each year the faculty of management hosts executives at UNB, many of whom are alumni. Students love hearing their stories about their time at UNB, how they manage their organizations and how they deal with the major challenges in their industries.
A finance student in the class, Harsh Jain, said that hearing Tsamaz talk about how he managed OTE during the Greek financial crisis was like reliving the experience with him. In a comment that might just sum up the essence of what the Executive-in-Residence program aims to do, he said, "It was great to learn about something so distant from so close."
 For information about the Executive-in-Residence program at UNB, contact Liz Lemon-Mitchell.