Living an entrepreneur's life at UNB
Author: Ideas with Impact
Posted on Aug 26, 2020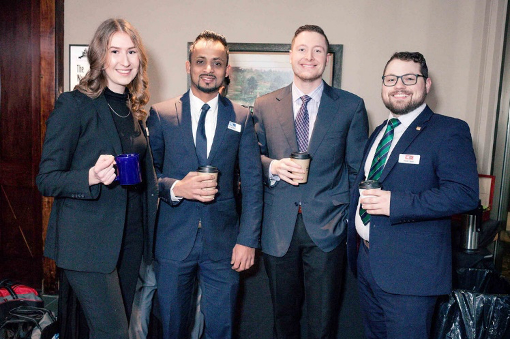 ---
Dustin Taylor and Faraz Khan didn't want to wait until finishing the BBA program to start running their own businesses. Thanks to the Student Works Management Program, they don't have to. Both students pursued an opportunity through this program to run their own franchises, and even employ other students, whilst earning a Co-op credit through UNB's Faculty of Management.
Taylor is running a painting franchise for his second summer in a row, while Khan is running his own franchise that does window and gutter cleaning. Both are breaking records thanks to their hard work, determination and competitive spirit.
Last year, Taylor won the Dulux Top Quality Award for his outstanding commitment to high quality services.  He independently sold and produced $130,000 in painting services, which enabled six students to work full-time throughout the summer. Taylor is nearly at the end of his journey in the BBA program, honouring in marketing with concentrations in finance, human resources, international business and entrepreneurship.   
This summer, he was determined to "smash his record" and has accumulated a total revenue of just over $170,000. This provided seven students with full-time work throughout the summer.  This outstanding success has blossomed into a career as a business consultant and he will be mentoring other New Brunswick students in operating their first businesses in Moncton and Saint John. 
As for Khan, when he enrolled in the BBA program, he knew he wanted to be his own boss someday.  Khan and Taylor are best friends, and when Khan saw the successes his friend was achieving, he knew he had to get involved.  This summer his co-op work term is making that dream come true. The window cleaning division of the Student Works Management Program is relatively new and growing steadily. The all-time rookie window cleaning record for revenue before this summer was just over $94,000.  Khan set his sights on "smashing that record" as well, and was successful.  He has earned a revenue of just over $101,000 in his first year of business and has claimed the title of the highest all-time rookie revenue record.
"I'm learning first-hand how to run a business and combining this experience with what I've learned in class," says Khan, who is heading into his final year of the BBA, completing a major in marketing with concentrations in human resources and entrepreneurship.
"Having the opportunity to run my own business over the summer has given me skills I could never learn on-the-job as an employee. I'm confident I will graduate with a strong start to my future career."
There is still time for students to learn more about this opportunity to run their own business. "Join the few, surpass the many," says Taylor, citing the Student Works Management Program. He encourages students interested in learning more about this opportunity to run their own businesses to contact him at their earliest convenience at dtaylor@studentworks.com.  
For more information about our Co-op program, contact Valerie Whyte, Co-op Coordinator.
Learn more about UNB's Faculty of Management. 
Photo: BBA students Faraz Khan (second in on the left) and Dustin Taylor (far right) with two other student entrepreneurs in the Student Works Management Program.