Entrepreneurship student wins prestigious Sobey Award
Author: Liz Lemon-Mitchell
Posted on Jun 4, 2018
Category: Students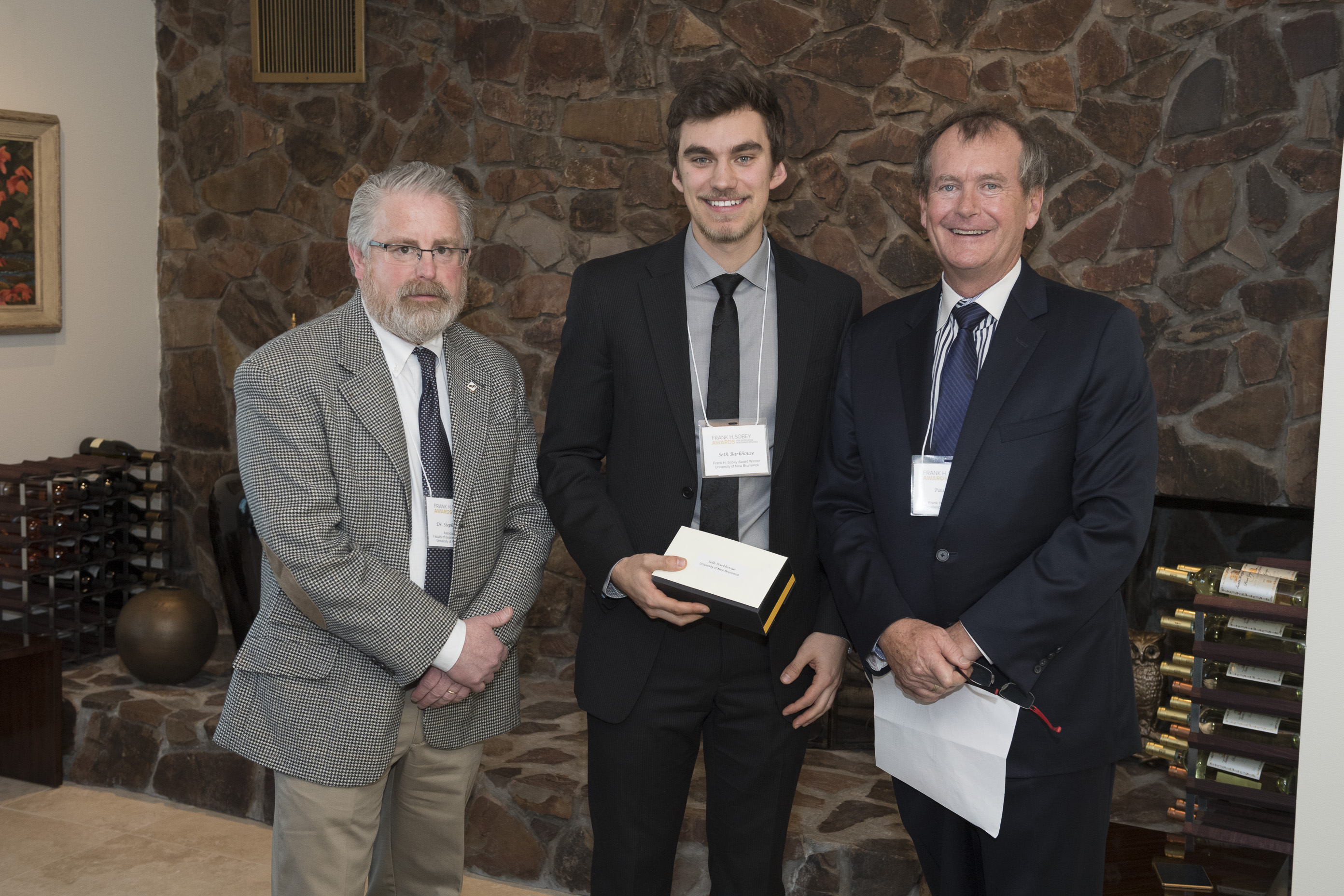 ---
In the age of text messages, Instagram and email, getting letters in the mail is becoming a rare event. Getting a letter from the Frank H. Sobey Foundation just before Christmas is an event Seth Barkhouse will always remember. The letter congratulated him on being chosen to receive the Frank H. Sobey Award for Excellence in Business Studies, an award worth $25,000.
Barkhouse was one of eight students across the Atlantic Provinces who received this annual prestigious award. Every year, over 20 finalists are nominated by the deans of each business school in Atlantic Canada and since the inception of the award in 1989, the eight recipients have been chosen by a Board of Trustees, comprised of Atlantic Canadian business and academic leaders. The criteria for choosing recipients of the Frank H. Sobey Award include entrepreneurial experience, university and community leadership, career aspirations and overall academic achievements.
It's not hard to understand why Barkhouse was chosen for this award. At the age of fifteen, while he was still attending high school in Edmonton, Alberta, he started his first entrepreneurial venture. "I got permission from my parents to use a portion of their property to start a storage business for industrial trailers," he said. "It was part of my co-op program in high school. Instead of working for another company, I wanted to start my own."
He continued running this business on the side when he enrolled in the bachelor of commerce program at Kings University in Edmonton. He also got involved with the city's startup community. "It was a large community, but it was so big, it was hard to connect with people who were at my level."
Barkhouse heard about UNB through his brother, who was enrolled in the faculty of engineering. "l learned about UNB's entrepreneurial programs and about the start-up community in Fredericton, and it really appealed to me," said Barkhouse. So, he transferred into UNB's faculty of business administration in his third year of the BBA program, where he has completed the BBA with a concentration in entrepreneurship.
Though he had to leave his storage business behind when he came to UNB, Barkhouse has more entrepreneurial projects on the go. As part of the concentration in entrepreneurship he was selected to be a leader in the Activator program and is working on a startup called Gradsfinder, an app invented by an MBA student at Universite de Moncton, which makes it easy for recent grads to find jobs that match their goals and corporate culture.
Barkhouse is also launching two of his own startups. One is a youth empowerment program called It's Okay to be Awesome. The other is Collaborative Play and provides teambuilding and life coaching services facilitated by a 1950's style robot named "Luke." Luke is programmed to play team-based games that mimic scenarios in the office.
"It's easier to talk about a game than it is to talk about complex situations at work," say Barkhouse, when asked to talk about Collaborative Play.
"Teams work through a series of ten games that are interlinked inside the robot ranging from guiding gears through a maze to redirecting lasers to reset Luke's heart to deciphering electronic codes. Luke is in his last minutes before he dies and he helps guide the team through steps to save him."
After the team has saved Luke (or not) they are led through a discovery approach with a facilitator.
"Our approach is fluid to meet the needs of the team to arrive at the outcome of changing beliefs about individuals or the team. Our beliefs are at the basis of our success individually and as a team because our beliefs really do shape our future."
Barkhouse was nominated for the Frank H. Sobey Award back in the fall term. "After that I forgot about it," Barkhouse said, "until one day my mother said I had a letter from the Sobey Foundation. It was pretty exciting."
In March, Seth traveled to Abercrombie, Nova Scotia, with Dr. Stephen Grant, Associate Dean of undergraduate programs, to a reception and award presentation at The Crombie, the home of the Sobey Foundation. In addition to meeting the other recipients, he met Paul Sobey, Chair of the Board of Trustees for the Frank H. Sobey Awards for excellence in Business Studies, along with other trustees and members of the Sobey family.
"We are very proud of Seth's success," said Dr. Grant, "while at UNB, he has demonstrated academic excellence while undertaking a heavy course load, establishing a business venture, and engaging in multiple time consuming extracurricular activities."
As part of the concentration in entrepreneurship Barkhouse has enjoyed combining academic study with hands on learning. He says he wants to continue down that road after he graduates in May by working in a job where he'll learn more about business and leadership.
And of course, he'll be running a business or two on the side.
Photo: Seth Barkhouse (centre) with Dr. Stephen Grant (left), Associate Dean of Undergraduate Programs, and Paul Sobey (right), Chair of the Board of Trustees for the Frank H. Sobey Awards for excellence in Business Studies.
For more information, contact Liz Lemon-Mitchell.
Learn more about our BBA program and our entrepreneurship programs.