The best way to learn finance - UNB style
Author: Liz Lemon-Mitchell
Posted on Jun 4, 2018
Category: Student Investment Fund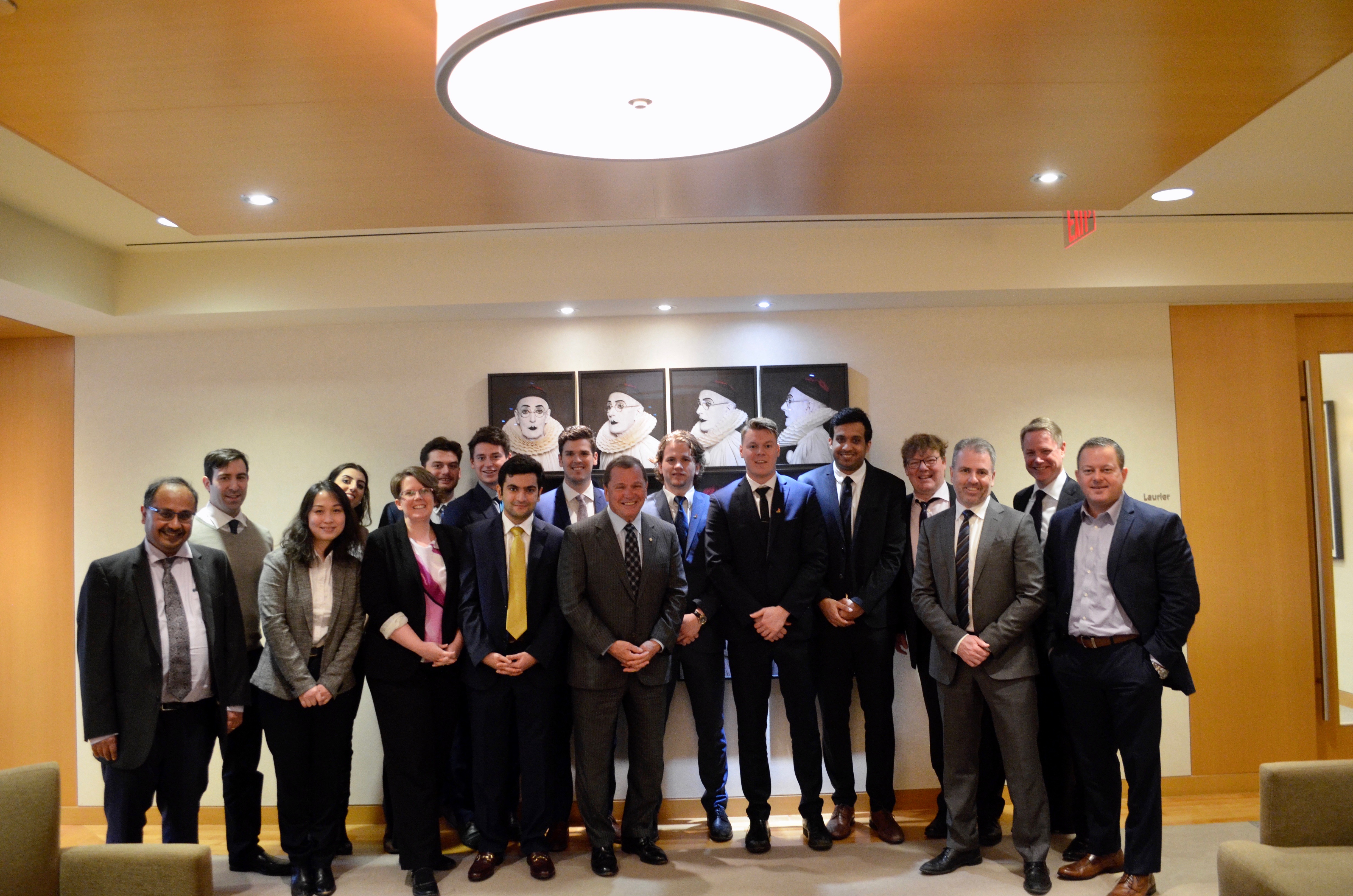 ---
A lot can happen in an elevator: just ask Olivier Babin, fourth year BBA student and member of the 2018 Student Investment Fund (SIF) class. This past term, during a SIF field trip of Toronto's finance district, a chance encounter in an elevator with Jean Desgagne, the President and CEO of TMX Group, resulted in his being offered a job with the TMX.

A valuable feature to the SIF program's success is the opportunities it provides students to meet key players in the finance industry, many of whom are UNB and SIF alumni, all of whom are happy to share career advice. This is why students take a field trip every year to a financial district to make connections. This year in February, they travelled to Toronto.

The SIF program's key industry partner and sponsor, Vestcor, planned the field trip and hosted the students throughout their stay. Their trip included visits to Goldman Sachs, the TMX Group in its brand-new office tower, the Investment Industry Regulatory Organization of Canada, Instinet Canada and RBC Capital Markets. They also visited some UNB alumni, including Tom Liston, Managing Partner with Difference Capital and some SIF alumni, including Colin Ryan, Managing Director Investment Banking with National Bank Financial.

One of the highlights of the trip was sharing stories and lunch with Frank McKenna, Deputy Chair of TD Bank Group and a former New Brunswick Premier, during their visit to TD Securities. McKenna took time to talk with each student and share his insights on important leadership matters.

"This trip was the highlight of my academic career," said Patricia Seaman, a part-time MBA student enrolled in the SIF class. Her sentiment was echoed by every other student in the class.

BBA student Rory Chisholm said he found it "… encouraging to meet and talk with alumni who were major players in the capital markets and were making an impact in the finance industry."

The students also attended the faculty of business administration's alumni networking reception which took place at the TMX Broadcast Centre on the evening of February 21st. Here they met with some of the faculty's Toronto based alumni, including Glenn Goucher, a 1992 graduate of the MBA program and current President of The Canadian Depository for Securities Limited. Goucher was the key note speaker for the evening and spoke about current trends in the finance industry.

During the past year Babin has served as TMX ambassador on UNB's Fredericton campus. When he entered the elevator in the TMX tower he met Desgagne and commented on his lapel pin.

"Nice lapel pin," Babin said.

"Thanks. If you worked for me, you'd be able to wear one, too."

"Well, it just so happens I do work for you. I'm your TMX Student Ambassador at UNB."

By the end of the day, Babin was wearing his own lapel pin and a few weeks later he accepted a job with the TMX Group in the Canadian Derivatives Clearing Corp - Financial Management & Corporate Development division. Since graduating in May, he's been working the TMX Montreal office.

Photo: Members of the Student Investment Fund class and friends at the TD Tower during their luncheon with Frank McKenna. Front (L-R): Dr. Devashis Mitra (Dean, faculty of business administration), Haiyun Dou, Patricia Seaman, Matin Farshidian (SIF Analyst), Frank McKenna (Deputy Chair, TD Bank Group), Mark Holleran (VP Equities, Vestcor) and Mark Hunter (Equity Trader, Vestcor); Back (L-R): Danielle Portelli, Dominique Soffee, Rory Chisholm, Kalen Park, Jordan Moore, Adam Lyon, Olivier Babin, Nachiketa Kumar, Peter Weldon (Head of FI/Currency Trading, TD Securities) and Peter Haynes, Managing Director, Index Products, TD Securities.

For more information, contact Liz Lemon-Mitchell.
Learn more about our Student Investment Fund.