Student investors test their knowledge and build confidence
Author: Liz Lemon-Mitchell
Posted on Jun 4, 2018
Category: Student Investment Fund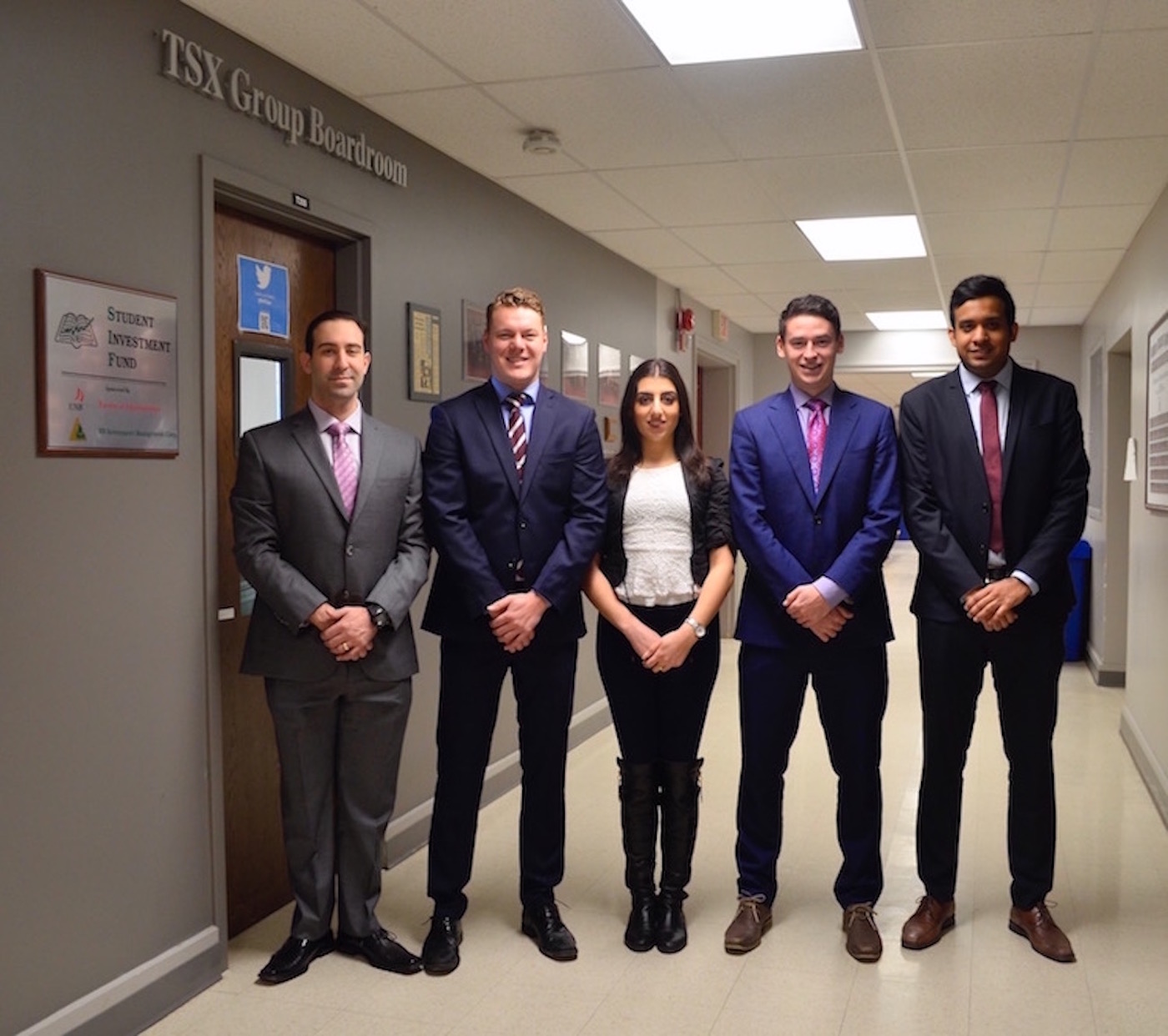 ---
Finance specializations are popular among business students eager to launch careers in finance and investing, but the degree alone is often not enough to help them get their foot through the door. The faculty of business administration at the University of New Brunswick Fredericton campus understood this when they launched the Student Investment Fund (SIF) program in 1998, which has students apply their academic learning to managing a real fund now worth over $8 million. The hands-on learning component of the program also includes testing their knowledge in industry relevant competitions.

This year, students participated in three competitions of note, the CFA Research Challenge, the Rotman International Trading Competition and the Van Berkom Small Cap Case competition. In addition to trying out their knowledge, they met students from across Canada and around the world, as well as finance professionals who are always open to sharing advice.

In February, a group of five students traveled to Halifax to compete in the CFA Research Challenge: Adam Lyon, Haiyun Dou, Jordan Moore, Rory Chisholm, and Patricia Seaman. Last November when they signed up for the competition, the team was challenged to produce a research report on Major Drilling. They spent the next three months researching the company and deciding whether they should buy, sell or hold its stock. Mark Holleran, VP Equity with Vestcor and a co-instructor of the course, was their mentor. During the finals in Halifax, they had 10 minutes to present their recommendations. While they didn't take home any prizes, just making it to the finals was reward enough, the students agreed. In addition to meeting other finance students, they attended seminars hosted by the CFA Institute on recent innovations in financial research.

The whole class spent close to a week in Toronto during February touring the finance district where they met with industry experts, which included UNB and SIF graduates. A team of five stayed to compete in the Rotman International Trading Competition; these included Daniel Portelli, Dominique Soffee, Kalen Park, Nachiketa Kumar and Olivier Babin and they were coached by Matin Farshidian, SIF Coordinator (and SIF graduate). The team started preparing in early February by building a quantitative model using their coding and financial knowledge. They ranked first among the universities based in Atlantic Canada, and 31 among the 52 teams from around the world. In addition to this competition, they participated in an energy trading case, a MatLab volatility trading case, and an S&P outcry case.

Fourth year BBA student, Daniel Portelli said, "this competition gave us the opportunity to compete and network with our peers from all over the world in a fast-paced, team environment."

In March, at the Van Berkom Small Cap Case Competition in Montreal, Adam Lyon, Olivier Babin and Rory Chisholm were challenged to research a small cap company (a company that is below the $500 million market cap) and write a research report. Their coach was Jeff Mott, Investment Associate with Vestcor (who as a SIF student in 2014-2015 won the very same competition). After the initial phase they were one of ten teams out of thirty to make it to the final round in Montreal. Once there, they had to produce a detailed report including an investment recommendation. They ranked six out of the ten finalists.   

Whether they placed first or not, all students agreed that making it to the finals was reward enough. In addition to the networking experiences, they got to apply everything they learned in the SIF and found out they were every bit as good (and sometimes better) as students from other parts of Canada and around the world.

Photo: Team UNB heading for the Rotman International Trading Competition, L-R: Daniel Portelli, Olivier Babin, Dominique Soffee, Kalen Park and Nachiketa Kumar.

For more information, contact Liz Lemon-Mitchell.
Learn more about our Student Investment Fund.