It's a great story: UNB graduate comes home to business
Author: Liz Lemon-Mitchell
Posted on Jun 7, 2018
Category: Student Investment Fund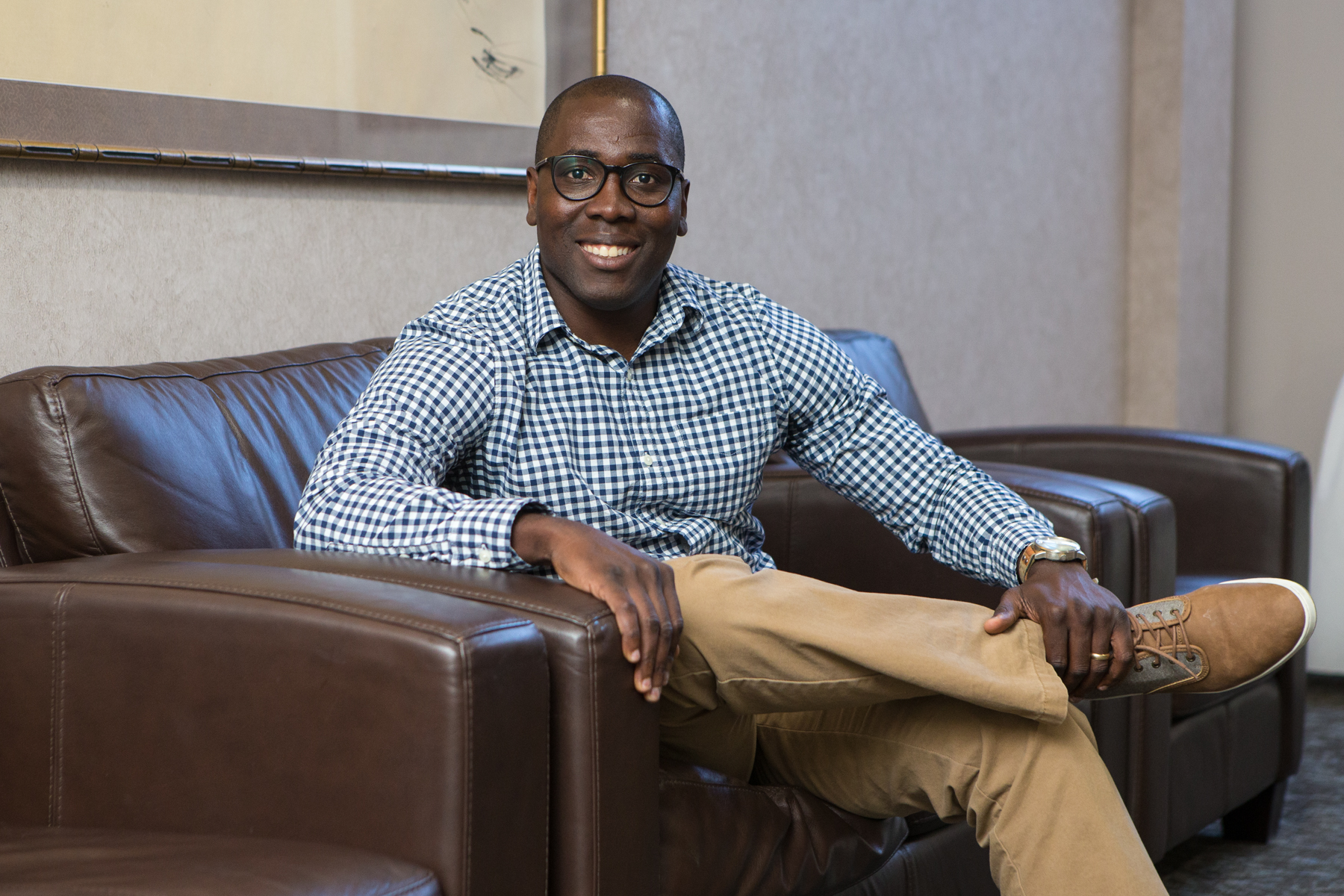 ---
A UNB business graduate has returned to UNB Fredericton to work with a program near and dear to his heart. Keagan Marcus (BBA '10, MBA '14) joined the faculty of business administration in May to fill the position of program officer for the Centre for Financial Studies (CFS). In addition to developing industry partnerships for the CFS he will be busy coordinating the experiential components of the Student Investment Fund class and the new Quantitative Investment Management (MQIM) program. He'll also be revamping the finance club.
Marcus brings to the position a unique set of skills that span finance, investing, and entrepreneurship. He came to the BBA program at UNB Fredericton through the faculty's partnership in Trinidad and Tobago with ROYTEC and the University of the West Indies. As a BBA student, he finished the second half of the program on the Fredericton campus, and completed the Student Investment Fund. He later returned to UNB to enrol in the MBA program and completed the concentration in entrepreneurship as an Activator leader which involved project work with a start-up.
In between degrees, Marcus lived in Toronto where he worked for a year at Versant Partners, a sell side equity research firm. During this time, he also started his first entrepreneurial venture, a company called Biovialife, which developed and is currently testing a non-invasive test to detect organ and transplant rejection.
When he finished the MBA, he moved to Saint John, where he worked with the city's finance team on the Safe Clean Drinking Water Project, a P3 infrastructure project to build a new water treatment plant and rehabilitate existing water infrastructure. He is now enrolled in UNB's PhD program, completing an interdisciplinary doctoral thesis on infrastructure investment and procurement.
Marcus says he's happy to return to the faculty of business administration as the CFS program officer working closely with the SIF. "As a former student, I know first-hand how this program provides a great foundation for students seeking opportunities in the investment industry. It's a pleasure to return to the program to help build on the solid foundation that has already been established. I look forward to working with the university, our partners and alumni to ensure that our students gain the necessary tools to compete in the job market."
While he was a student at UNB, Marcus took courses from Dr. Norm Betts, professor of accounting, and also worked for him as a teaching assistant. Betts is currently co-supervising Marcus as he works on his PHD. When he learned that Marcus would be working for the CFS, Betts said, "Keagan is a UNB success story. He came here through our partnership with ROYTEC in Trinidad and Tobago. He finished both degree programs here including our flagship experiential programs, the SIF and Activator. He's settled in the province and now he's working at UNB. It's a great story."
Keagan's office is located in Singer Hall room 352. Anyone interested in contacting him about the Centre's activities or programs can reach him at 506-447-3474 or keagan.marcus@unb.ca.
Photo: Keagan Marcus (BBA '10, MBA '14) is the new program director for UNB's Centre for Financial Studies.
For more information, contact
Liz Lemon-Mitchell
or
Keagan Marcus
.
Learn more about our
Student Investment Fund
or our
Master in Quantitative Investment Management
programs.