UNB's Finance Club Making Stocks Simple
Author: Ideas with Impact
Posted on Jun 2, 2016
Some viewers might feel a little lost when watching movies about the world of finance like the recent Wolf of Wall Street or The Big Short, but students in UNB's student Finance Club don't; even those who don't have a background in finance or business. Those foreign sounding terms, the colours changing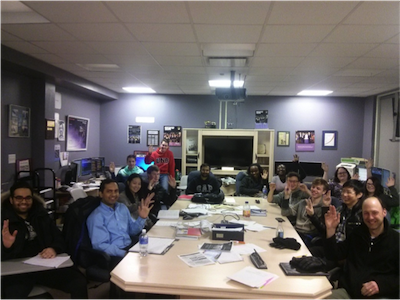 red to green to red, and the intricacies of the housing bubble are all familiar to them.
UNB's Finance club has been around for a few years and is open to anyone interested in finance. Members meet every Tuesday during the school year to discuss the stock market, current events in the world of finance, and real life applications of finance. This year under the leadership of Student Investment Fund students Tuan Bui and Michael MacDonald, who served as co-presidents the club achieved some milestones.
A New Level of Financial Experience
For starters, the students succeeded in getting the club ratified by UNB's Student Union, which changed its status from being a self-funded stand-along entity to an official UNB club. They also attracted more members, bringing the total membership up to 30.
Their most significant advancement was enhancing the professional learning and experiential aspects of the club. This year the members learned how build financial models, which are used to value equity or stocks, a very useful tool to have if you're thinking about a career in investing, and especially if you're heading into an interview.
In fact students learned how to build two financial models: the Discounted Cash Flow model and the Relative Valuation model.
"These are the two must-know models for any one hoping to work in the investment industry," said Bui. "They're useful for business students in general. They will be able to apply everything they learn to evaluate the values of stock in the real-life market."
Another new feature of the club this year is that some members attended the Montreal Options Exchange and entered several finance competitions in Montreal and Halifax, where they had to test their knowledge and skills by competing against students from other schools.
Investing in the Stock Market is for everyone
Although MacDonald and Bui will not be involved with the Finance Club next year, one of their recommendations to the next leaders of the club is to build a trading club to facilitate hands on investment experience with the members.
"It could start with even $1000 that members invest and monitor," said Bui. "Each member would work together to try and grow their investment, which would allow students to further develop their skills and knowledge of investing."
Both Bui and MacDonald agree that the Finance Club has much to offer all students at UNB. The Club is not restricted to students in a finance majors; this year members included students from the faculties of engineering, math, and computer science, as well as business. "We hope that more and more students join and grow the network," says MacDonald.
"The Finance Club is for everyone at UNB," says Bui. "We think that educating people about investing is very important and there are so many opportunities out there for you to make great returns on investments, you just need to know how to do it."
For more information contact Liz Lemon-Mitchell
Learn more about UNB's Finance Club.
Learn more about our business programs.