There and back again: An entrepreneur's tale of discovery
Author: Ideas with Impact
Posted on May 30, 2016
Two UNB Fredericton MBA students headed to Los Angeles, California, last December to learn about drones and to find out if a business they're trying to launch is practicable. Not only did they find answers to their questions about start-ups, they experienced first-hand what most students only read about in their textbooks.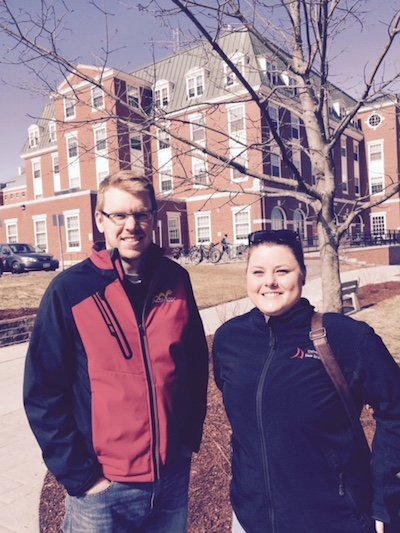 Starting point – a great idea
Anne Marie Rolfe and Andrew Lockhart are both completing the MBA with concentration in entrepreneurship in the faculty of business administration. They are working with two forestry alumni to help prepare a business plan for a technology that will make it easier and more affordable to survey woodlots.
The technology they are helping to commercialize is a drone loaded up with sophisticated technology that can be used to survey the growth conditions of forests and wood lots. Traditionally, governments and commercial wood lot owners have used airplanes equipped with the same technology to monitor the growth rates of trees and other vegetation. However, this process comes with a high price, one far beyond the budgets of small woodlot owners.
Enter Aquila Recon to the rescue. Named after Zeus' eagle Aquila of ancient Greek mythology, Aquila Recon combines drones with a technology called LiDAR.
LiDAR, which stands for "light detection and ranging," shoots lasers to the ground that bounce back to produce 3D images of the ground surface. Forestry engineers can then use these images to interpret growth rates and ground conditions. By using drones instead of airplanes, these entrepreneurs hope to make this service easier and more affordable.
A great business idea but will it work?
After formulating idea to see that it worked, the two inventors turned to UNB's Activator™ program to get help writing a business plan, and this is where Rolfe and Lockhart became part of the story.
The Activator™ program pairs student leaders with would be entrepreneurs or inventors to take a business from idea to launch. Students take a series of entrepreneurship courses and work with other students in the class to conduct research, write business plans and even find investors.
As a student leader of the Activator™ program, Lockhart is in charge of overseeing the project. "The interesting thing about this business venture," said Lockhart, "is that entrepreneurs usually see a problem and then try to find a solution that people will want to pay for. In this case, we're working with a unique solution, but we needed to find the right market to ensure the business idea could succeed. In other words, the first thing we needed to find out is, will there be a demand for this product and service?"
This is what took Lockhart, together with Rolfe, who partnered with him on the project for one of her entrepreneurship classes, to the world's largest drone convention to learn about drones and to discover if their product was viable.
California-bound
Sponsored by Tesla, the 2nd International Drone Expo took place in the Los Angeles Convention Centre last December. The expo attracts thousands of drone experts and users from all over the world.
The students wanted to learn more about drones and the costs associated with using them to learn if their product was worth developing. After talking to people at the convention who use drones and are familiar with the technology, they learned that using drones to survey forests definitely makes sense, however there may be options in addition to LiDAR technology.
"We discovered that more people are using aerial photography rather than LiDAR," said Rolfe, "because it's a much simpler technology and doesn't have to be expensive. Most of the people we talked to suggested this process would be more feasible than using LiDAR."
An interesting discovery
"The whole experience resulted in us considering what in the entrepreneurial world is called a 'pivot'," continued Lockhart, "which is when you shift your strategy based on things like feedback from customers about what they really need. A lot of start-ups go through pivots in their early stages in order to find the right customers."
After their trip to Los Angeles and additional research, they had to prepare a business plan for Aquila Recon that included an analysis of the market potential for the product. The trip helped influence the report they have been working on in new and unique ways, introducing additional options for the start-up.
"They have many new and exciting options after this," said Lockhart, "and whole journey has been really interesting and full of surprises for me on a personal level. In our courses we've learned about things like "value propositions" and "positioning" and how entrepreneurs sometimes have to pivot from their original ideas. We got to experience this first-hand."
Another bonus to the project, aside from spending a few days in Los Angeles, was learning about drones. "I didn't know much about them," says Rolfe, "but they are being used more and more in different industries. Learning about the rules and regulations around using drone technology, the challenges users are facing, and how the technology can help businesses was really valuable."
The faculty of business administration launched the Activator™ program in 2007. Since then students have helped launch businesses every year. In addition to developing professional skills like communication and leadership, students make valuable contacts in the business world before they graduate. Often, as part of their research, students travel to other parts of the world to meet with experts.
For more information contact Liz Lemon-Mitchell
Learn more about UNB's faculty of business administration and our programs