Split Second Training Services - Saving Lives in a Split Second
Author: Ideas with Impact
Posted on Feb 26, 2016
Category: Alumni , Programs , Students
Ensuring that police officers have the right skills and competencies to deal with public threats and attacks is a critical aspect of training and officers need up-to-date training in this area now more than ever. But with the high price of advanced training and increased financial pressure on police departments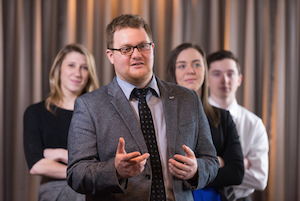 across North America, the training that officers require is not always accessible or affordable. Split Second Training Systems, a new training software program developed by a graduate of the University of New Brunswick's BBA program in Fredericton, might just offer a viable alternative.
Captain Jeremy MacDonald, who graduated from the BBA program in 2015, founded Split Second Training and is working with a group of MBA students through our Activator™ program to commercialize the system. Split Second Training Systems offers a proprietary software system that allows officers to focus on their two principal training needs: target range simulators, and interactive scenario drills. The software is designed and based off of the modelling from an existing popular game. "The customer uses a computer with the software packages installed, combined with a laser-guided gun, a projection screen, and hit-detect camera to simulate realistic target ranges and crisis scenarios," explains Jonathan Alward, who is an MBA student and Activator™ leader of the project.
Captain MacDonald has the military background needed to create the platform for this idea. Through UNB Fredericton's Activator™, he was paired with Jonathan Alward, MBA students Melissa Gottschall, and Mallory Flowers, and Engineering student Cameron McNeil. They have been working to commercialize this product and develop the business plan.
The Activator™ program aims at joining entrepreneurs and inventors that lack business knowledge with MBA students who have the knowledge and skills to make their ideas a reality. The program offers four mandatory courses that help students acquire the entrepreneurial knowledge to start a successful business. The program has a sound track record, since at least one new start-up has been created per year since the Activator™ launched in 2007.
Split Second Training Systems recently competed in the 2016 BMO Financial Group APEX Business Plan Competitionwhere they received valuable feedback from judges that helped them refine their business plan. "APEX helped us gain experience and exposure to the business world," said Cam McNeil. "There's also value in seeing everyone's ideas."
Split Second Training doesn't plan on stopping there. Jeremy has worked with the team to develop programs like this in the military and has partnered with NRC to conduct further research. Studies with the RCMP have shown that this type of program can be just as effective as traditional methods while being safer and much more affordable. With support like this, there's no doubt that these training systems will soon be saving lives in a split second!
By Natasha Youssef
For more information contact Liz Lemon-Mitchell.