ReadyPass: Helping You Trust the Bus
Author: Ideas with Impact
Posted on Feb 24, 2016
In many places, taking the bus can often seem harder than quantum physics. The maps are confusing, and it's hard to tell if the bus has already gone by and you've missed it, or if it's running late and you should wait a few minutes longer. Life can be hectic, and no one wants to wait around outside,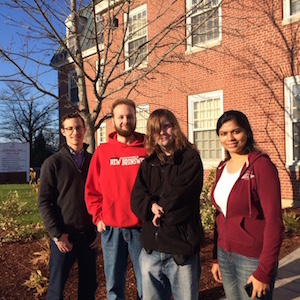 especially during our frigid Canadian winters, waiting for the bus. Thankfully, some students at UNB and their invention, ReadyPass, have a solution to all these problems and more.
ReadyPass is an app that makes public transport a breeze. It uses real-time GPS tracking technology to relay information about a bus' location directly to the user. It also features a route finder to avoid confusing schedules, push notifications to alert you when the bus is near, and online ticket purchasing to save time. But ReadyPass doesn't only help riders, it benefits municipalities, as well. Bus drivers will no longer need to memorize ticket designs, which will allow them to focus more on driving. Municipalities win by increasing ridership and receiving data to optimize transit and save money.
The idea for ReadyPass comes from Taeler Dixon, BScSwE at UNB, after experiencing the pain of waiting for the bus too many times. Anthony Colford, a former UNB Computer Science student, joined forces with him as the backend developer. Through UNB Fredericton's Activator™ program, they were able to join with Activator™ Leader Alex Kall and a group of MBA students, to take the app to market. The students are busy analyzing market opportunities and preparing a business plan for ReadyPass. "As developers, the areas we're unsure of are what the MBA students do best," said Colford, "They have the business expertise to take the product to market."
The Activator™ program matches budding entrepreneurs who lack practical business knowledge with MBA and BBA students with the business expertise to launch a new business. The program integrates a series of four courses into their business program that help students acquire the entrepreneurial knowledge to start a successful business. Since its launch in 2007, the Activator™ program has launched at least one new start-up per year. These include companies such as Biomatcan, Total Pave, and Doctor's Orders.
Recently, the ReadyPass team competed in the BMO Financial Group APEX Business Plan Competition hosted by the International Business and Entrepreneurship Centre (IBEC) at UNB. The team faced tough competition but came out on top, winning first place in the graduate track. ReadyPass also wowed the audience with their sixty second pitch, nabbing 'Best Elevator Pitch' and 'Viewer's Choice: Best Elevator Pitch' awards.
But this is only one stop on ReadyPass's bus ride to success. The city of Fredericton really supports the idea and is moving the app into buses for beta testing. "ReadyPass is the public transit upgrade every city deserves," says Alex Kall. "We're helping Canadian cities make their buses easier to use and cheaper to operate, to make commuters' lives easier and to help the city operate more efficiently."
By Natasha Youssef
For more information contact Liz Lemon-Mitchell