More than a Competition: APEX helps creativity thrive
Author: Ideas with Impact
Posted on Feb 24, 2016
Year after year, aspiring entrepreneurs from all across Canada come together for the BMO Financial Group APEX Business Plan Competition. This year was no exception, with teams presenting innovative business ideas and forming valuable connections in an environment where creativity thrives.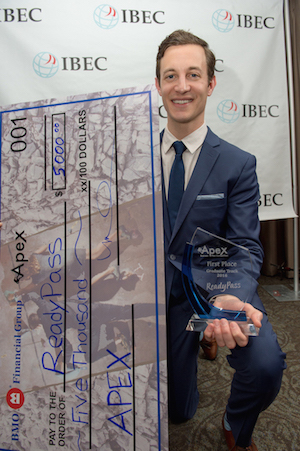 The competition ran this year from January 20-22 at UNB's Wu Conference Center. Teams competed in an array of events at either the undergraduate or graduate level. Well-established entrepreneurs from the region acted as judges, providing the teams with invaluable feedback and insight on how to polish their business plans.  This year 17 teams participated in the competition, representing Mount Allison University, St. Thomas University, Saint Mary's University, Carleton University, Dalhousie University, and University of New Brunswick.

The BMO APEX Business Plan Competition differs from other business plan competitions in Canada because it offers practice rounds. Teams are able to present their idea to knowledgeable entrepreneurs in a more relaxed setting and are then given feedback without being judged. This gives the teams an opportunity to tweak their pitches and to make them more effective during the final rounds.

"The value of Apex is the feedback. People are here to help, people with the educational background and also the practical background," says Taylor Brown of 'Light Therapy Inc.', the team from Saint Mary's University. "It encompasses the whole idea of a business plan, not just a written document."

After the qualifying rounds, the judges selected three teams from the undergraduate and graduate track who advance to the Live Finals. The winners were announced at the Gala Awards Dinner following the competition.

First place at each level received a cash prize of $5,000, while additional awards accounted for over $10,000. In this year's undergraduate track, University of New Brunswick's 'Saros' won first place, 'Country Liberty Inc.' of St. Thomas University won second place, and 'Nalado Vodka' of Carleton University won third place. The University of New Brunswick shined in the Graduate track, taking first and third place with 'ReadyPass' and 'Fornya Float Spa' respectively. Second place went to 'Sandcastle Application Development Inc.' of St Mary's University.

UNB's 'ReadyPass' cleaned up this year, winning two further awards in addition to first place. Their elevator pitch pleased both the judges and the audience, earning them the awards for 'Best Elevator Pitch' and 'Viewer's Choice: Best Elevator Pitch'.
Although not all the competitors went home with cash, they said they all left feeling like winners. "It forces entrepreneurs to be prepared," said Sawyer Hannay, a St. Thomas University student and President of 'Country Liberty'. "The true value of this competition isn't a few dollars, it's the ability to network and meet people you wouldn't otherwise have a chance to meet."

By Natasha Youssef (BBA student)

For more information contact Liz Lemon-Mitchell