Devashis Mitra Reappointed Dean for Five-year Term
Author: Ideas with Impact
Posted on Feb 24, 2016
Category: Faculty
Dr. Devashis Mitra has been reappointed dean of the faculty of business administration for a five-year term, effective July 1, 2016. The University of New Brunswick announced his reappointment on February 15.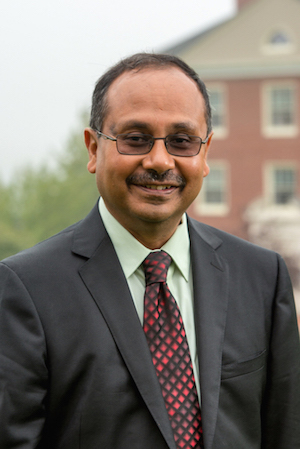 Dr. Mitra brings a consultative approach to the faculty of business administration, focused on exploring new opportunities for growth despite challenges facing the University. In so doing, he is committed to fostering an environment that is innovative, adaptive and always relevant.  
Over the next five years, Dr. Mitra said he will work towards seeing  "the faculty recognized for its competitive and differentiated programs and quality of research, admired for its strong emphasis on student learning and engagement and sought after for its contributions to and alliances with professional and community organizations."  He also stated that he is committed to strengthening ties and fostering collaborative initiatives with the faculty of business on our Saint John campus. 
Dr. Mitra joined the faculty of business administration in 1991. He has a PhD in finance from the University of Massachusetts at Amherst and is a fellow of the Institute of Chartered Accountants of India. He received a UNB Merit Award in 2001 and again in 2012 for his performance in research, service and teaching. He was also a recipient in 2002 of the faculty of business administration's Excellence in Research Award for performance across his career.  
Dr. Mitra teaches corporate finance, entrepreneurial finance and international financial management in the BBA and MBA programs, and is co-author of a corporate finance textbook that is widely adopted across Canada.
For more information contact
Liz Lemon-Mitchell
.