A road trip down the Branding Highway
Author: Ideas with Impact
Posted on Feb 24, 2016
No matter what type of business you're in, the competition is never far. How to stand out in the market place is one of the biggest challenges businesses and marketers face, and one that often comes with a high price tag. Students and guests of UNB Fredericton's MBA Professional Development class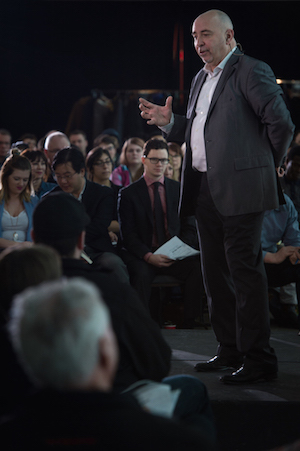 gained some valuable, if unconventional, knowledge on how to use branding to make their businesses stand out in a crowded market place by taking a trip down "The Branding Highway," a presentation and workshop delivered by award-winning speaker, Gair Maxwell, who visited UNB on February 5, 2016.
Gair Maxwell is author of Nuts, Bolts and a Few Loose Screws, a book about how to build and brand your business, and a professional speaker, specializing in business and brand reinvention. His is an unconventional journey into the branding world; after a twenty-year career as a journalist and broadcaster, he started working in the communications and branding industry which led him to his current career in public speaking. He has received national awards from high-level CEO organizations and has shared conference stages with business superstars such as Richard Branson and Gene Simmons.  
Gair's presentation was engaging and motivating, and challenged students to view branding as both a strategic and creative exercise. As a former journalist, Gair's path to understanding what makes a business successful is understanding how they tell their story. Your story is your brand, so students on the Branding Highway learned that the key to successful branding, is identifying your story and telling it in a compelling way that will evoke emotional attachments. This doesn't have to cost a fortune.
The Branding Highway led students to several pit stops where they learned the difference between "badges of ownership" and "brands of distinction" and saw how businesses have used their stories to build powerful brands. These included Fredericton businesses like Jim Gilbert's Wheels and Deals: Canada's Huggable Car Dealer and the Mortgage Professor, as well as internationally recognized brands like Ferrari and Apple. What they all have in common is the skill of using storytelling to provoke emotional attachments and create memorable brands.
Gair's presentation was part of the MBA Professional Development class, which features weekly speakers during the first year of UNB Fredericton's MBA program. The course helps students build professional competencies and build their personal network of business contacts by working with experienced business people each week. At least once a term, the class opens these presentations to members of the UNB and business communities who are interested in building their professional skills. On February 5, despite one of the worst snowstorms New Brunswick has had this winter, over 100 people filled the Long Hall in the Richard J. CURRIE Center to hear what Gair had to say, some from as far away as Saint John, Moncton, Bathurst and Halifax.
For more information contact
Liz Lemon-Mitchell