Social Media Legend speaks to MBA Class
Author: Ideas with Impact
Posted on Dec 11, 2014
Category: Programs
Dave Carroll never expected to change the nature of customer service, public relations and brand management when he sought compensation for a guitar destroyed by a careless airline baggage handler.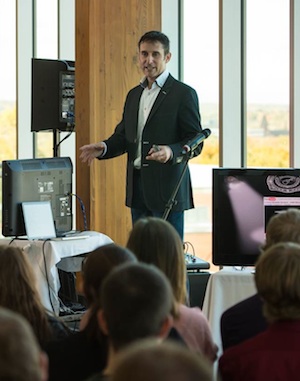 But when Carroll fulfilled a promise to United to post a music video on his ordeal to YouTube, that's exactly what happened.
Carroll's modern digital David and Goliath tale over a beloved Taylor guitar damaged by United Airlines marked the start of a shift in control of brands and marketing from companies to customers thanks to the rising influence of social media platforms such as YouTube, Facebook and Twitter.
Carroll made the video, titled United Breaks Guitars, with the help of friends of family. Posted on July 6, 2009, it amassed 150,000 views; forcing United to call Carroll back and resume talks to correct the situation. Within three days the video had reached over a half-million views and by August 2009 it had more than 5 million views. Today it's reached more than 14 million views. The other videos in the United Breaks Guitars trilogy also garnered millions of views.
As a result of the videos, Carroll was propelled to worldwide fame and became not only a musician, but also a much sought after public speaker.
His video is held as an example of how to properly complain to companies using social media.
MBA students at UNB Fredericton had the benefit of learning from Carroll's experience first hand this semester with a visit organized by the Professional Development Program in October.
More than a hundred MBA students along with other UNB students and the general public attended the afternoon seminar that was held in the bright and modern Long Hall of the Richard J. Currie Centre.
"It was an amazing experience. There are not too many MBA seminars that start off with a live music performance and feature an expert like Dave Carroll," said David Shipley, a part-time student in the MBA program.
Students and the public learned about Carroll's experience as he went through an increasingly frustrating journey through a customer service system that showed little sympathy to his plight and how dramatically the situation changed once Carroll reached a massive audience through YouTube.
"The lesson I think the entire class took from United Break Guitars is that every customer matters. You're business is only as good as its last interaction with a customer," says Shipley.
Carroll's session, along with a second major public seminar featuring entrepreneurs Dan Martell and Heather Carson helped not only our students, but also raised the profile of the MBA program, says Shipley.
"It was an absolute thrill to meet Dave Carroll in person and to learn from him. The chance to learn from some of the top minds in marketing and entrepreneurship made this a memorable semester," he adds.
For more information contact Liz Lemon-Mitchell.