Co-op in the Wild West
Author: Ideas with Impact
Posted on Dec 11, 2014
Category: Students
When third year BBA student Kelly Sheehan first accepted a co-op placement with Syncrude Canada Limited in Fort McMurray,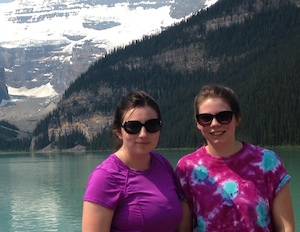 Alberta, she was both excited and a little anxious. Working in the accounting department of such a huge company would be a great way to gain valuable experience, but the idea of moving across the country was a bit daunting – but only in the beginning. The experience has turned out to be fun and fulfilling.
One of the largest producers of crude oil from Canada's oil sands, Syncrude has about 5000 employees. Kelly is doing an eight-month work term in the area of business analysis and reporting, specifically in the area of Tailings & Lease Development. She attends meetings daily with business teams to discuss costs and budgeting. She also runs reports, analyzes data and helps to create budgets for the executive team.
While Kelly's previous co-op placement was with a public accounting firm, working for a company like Syncrude is giving her exposure to a whole different side of the accounting profession. She is able to apply the knowledge she gained in the classroom to her job on a daily basis, which is having a significant impact on her understanding of accounting procedures.
One of the biggest impacts her co-op placement is having, she believes, is on her career potential. Kelly has met and worked with a great number of business professionals, providing her with valuable networking opportunities. This position has not only given her the chance to diversify her resume, but also to see the directions she can pursue with her degree - all while gaining practical work experience, an asset many students lack when searching for jobs after graduation.
Career opportunities aside, many students are hesitant about venturing so far geographically for a work term. Kelly found that doing so allowed her to fully immerse herself in not only her job but in her new community. "A once unfamiliar place has become a second home for me," she says, "and I am making great friends with other students and co-workers from all over the country."
Completing a co-op placement in the Wild West has had a meaningful impact on Kelly's career and education, one that will give her a great advantage when she completes the BBA degree at UNB.
For more information contact Liz Lemon-Mitchell.