Teaching Beyond Borders
Author: Ideas with Impact
Posted on Oct 22, 2014
Category: Faculty
Teaching Beyond Borders … impact on accounting professionals
At least three or four times a year FedEx delivers multiple packages to UNB's faculty of business administration, all addressed to Elin Maher, Professor of Accounting at UNB. Their contents are exams written by students of the Certified General Accountants program who live in Canada and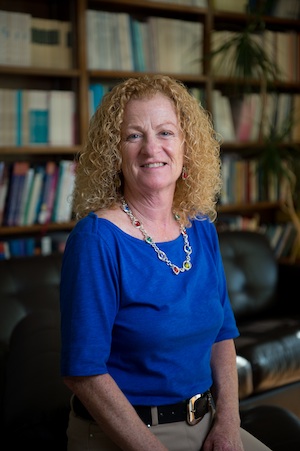 the Caribbean, and as far away as China. It's Professor Maher's job to mark these exams and submit the results to CGA.
Professor Maher has been teaching accounting courses at UNB for 26 years. In addition to teaching, she has devoted a lot of time to working with CGA Canada to prepare and mark final exams for the program's Introduction to Financial Accounting courses. In fact, she has been doing this for CGA for the last 17 years.
There are two components to the work Professor Maher does for CGA: first, she prepares the CGA exams, and next she grades the papers and supervises a couple of markers, one a current student and the second an accounting graduate, who assist her with the grading. This is rigorous work and the entire process is subjected to intensive peer review.  It's also very time consuming. Up to 900 students per year have written these exams, which means that over the past 17 years Professor Maher has contributed to the learning experience of several thousand potential accountants around the world.
When asked why she does this, Professor Maher said, "It's what I do...I teach accounting and this is a way to contribute to the accounting profession outside my classroom and beyond UNB. " Writing the exams exposes her to content she doesn't cover in her accounting courses at UNB, so it requires her to stay on top of the latest research and standards within the accounting profession. "It really has deepened and broadened my knowledge of accounting," she explains.
The close of the last academic year marked the end of Professor Maher's work with CGA. Canada's three professional accounting designations – CGA, CMA and CA – are currently merging to form one designation, the Chartered Professional Accountant (CPA).
CGA has been delivering courses via distance to students seeking the CGA designation for many years. "CGA is a master of distance learning," said Professor Maher, "their courses are so well developed and their delivery is so efficient that whether you're a student living in China, in Canada, or in the Caribbean, you can take a course through them independently and be successful. I have been impressed with the organization and am proud to have been associated with them."
Professor Maher's teaching and research interests at UNB are in the areas of financial, international and managerial accounting. Her publications have appeared in such journals as Journal of Accounting Case Research, the Journal of Open and Distance Learning, and the Journal of University Continuing Education. She has been recognized for her teaching contributions at UNB with several awards:  in 2004 she was designated a UNB Teaching Scholar, a three year appointment; she received the Faculty of Business Administration's Excellence in Teaching Award in 1998, 2008 and 2013.  She also received the MBA Society Professor Recognition award in 2006 and 2014.
For more information contact Liz Lemon-Mitchell.