What would you say
Author: Liz Lemon-Mitchell
Posted on Jul 12, 2011
Category: Student Highlights
Imagine having a debilitating disorder that prevents you from standing, walking, eating, communicating, and sometimes even breathing.  That is what the estimated 50,000+ Canadians living with neuromuscular disorders have to live with each and every day. Muscular dystrophy is just one such disorder. Muscular Dystrophy Canada (MDC) is a not-for-profit organization that provides help and support for those Canadians living with neuromuscular disorders.  Over time, persons with neuromuscular disorders may lose the use of their hands, feet, legs, speech and eventually their ability to breathe.  These disorders can be fatal and there currently is no cure. As a result of the generosity of donors, Muscular Dystrophy Canada is able to make a real difference in the lives of people affected by muscular dystrophy.
This year, in an effort to raise money and awareness for Muscular Dystrophy Canada, the MBA Professional Development program conceived and implement a unique event called 11 Minutes / 11 Muscles.  It takes 11 muscles to talk.  Inspired by the TED talks featured on ted.com, students in the MBA Professional Development class flipped this around to ask people, if you only had 11 minutes to talk, what would you say to inspire?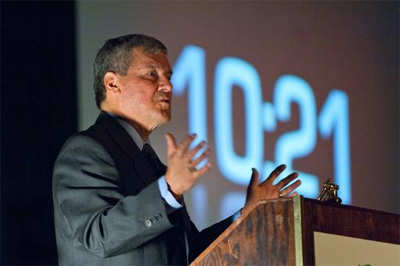 11 Minutes/11 Muscles gave some of New Brunswick's and Canada's most interesting people 11 minutes on stage for a series of captivating talks that ranged from local to international and even galactic issues. The event took place on Friday, April 1, 2011, at the brand new Fredericton Convention Center, and despite the blizzard like conditions outside, it was a huge success with over 280 people in attendance.
Between ticket sales and a silent auction, students raised just over $8,500 in support of Muscular Dystrophy Canada. It was all made possible thanks to the generous support of over 20 local businesses and organizations (Click here to see a full list of our sponsors).
The speakers were (click on their names to view their speeches): Graydon Nicholas, Lieutenant-Governor of New Brunswick; Freeman Patterson, photographer and writer; Rachel Pulfer, international program director, journalists for human rights; Stanton Friedman, nuclear physicist, ufologist and one of the original investigators of the UFO Roswell incident; Brian Duplessis, executive director, United Way; and David Adam Richards, author, playwright  and St. Thomas University writer in residence.
Rudra Adhikari, one of the MBA students who worked the event, commented, " This is a historical event for Fredericton. We've brought together some very distinguished speakers and some of Fredericton's business leaders for a great cause. Everyone was supportive, and I think a lot more people are aware of MDC and the great work they do."
The Professional Development program is a yearlong course dedicated to providing practical knowledge and skills development among current MBA students. Two themes the course focus on are corporate social responsibility and social entrepreneurship. The project this year involved designing a fundraising event for a nonprofit in the first semester and implementing it in the second.
The professional development class had three goals in mind as they developed the concept for 11 Minutes / 11 Muscles and brought the event to fruition: the first was to provide MDC with financial assistance; the second was to increase awareness of muscular dystrophy; and the third was to lay the foundation for MDC to continue the 11 Minutes / 11 Muscles event in the future and even in other locations across Canada.
Muscular Dystrophy Canada was extremely grateful for the support from the MBA class and the Fredericton community. Jeff Sparks was the opening speaker for the event and has been with MDC for over 25 years. Sparks remarked, "I think the program was absolutely amazing.  It helped to raise awareness and funds for our cause, while requiring very little effort of our volunteers who struggle daily managing their disorders."
After raising thousands of dollars and already having people wanting to come back next year, it is clear the students have achieved their goals. As MBA student Qiaobing Mei put it, "This is just the beginning. I hope it will continue on and grow, and that I can do more to help." All in all, the 11 Minutes / 11 Muscles speaker series was a very special night that put the spotlight on a very serious and debilitating disorder. As it carries on over the next few years it will keep raising awareness and creating lasting memories. MBA student, Dave Kell, noted, "This was a unique experience, and I've learned quite a bit. I'm definitely going to remember this event for the rest of my life."