Road to the NHL - A Dream Come True
Author: Liz Lemon-Mitchell
Posted on Jul 12, 2011
Category: Student Highlights
Getting on the ice in front of a sold-out 19,000 capacity crowd cheering at the top of their lungs is "a dream come true," for second year BBA student Darryl Boyce.
Now playing on the Toronto Maple Leafs as an unrestricted free agent, Boyce is still not used to the spot-light. "There is definitely a rush every time I go on the ice," explained Boyce. "I grew up watching Saturday night hockey, and now I'm the one on the ice actually playing. It is an exhilarating feeling."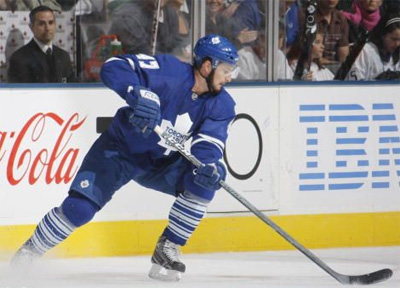 Making it to the National Hockey League (NHL) was no easy task for the 26 year old, PEI native. He  played for several years in the juniors with the Ontario Hockey League without getting drafted, but he loved the game too much to stop.
Boyce made the decision to come to the University of New Brunswick and continue playing while also getting a quality education. What he never expected, was that his time at UNB would help him turn pro and help the university win a CIS National Championship.
Scouts had their eyes on Boyce as he played two seasons with the Varsity Reds recording 65 points in 53 games played, and earning the rookie of the year award and Male Athlete of the Year honours for his efforts.
Boyce admits that he would never be where he is now if it wasn't for UNB. "It was a valuable buffer period that allowed me to develop and improve my game," says Boyce. "My years there were unbelievable. I truly do wish I would have played a couple more years there, but as they say, timing is everything. [The Leafs] wanted me to sign my first year, but I waited one more year. They wanted to sign me again, so I couldn't turn it down twice."
Boyce isn't finished with university, he still believes that education is extremely important. He takes online classes while he plays during the regular season, and once the off season hits he heads back to New Brunswick to take some intersession and summer session courses.
When fall rolls around, Boyce will be concentrating on his game, and trying to help lift up the Toronto Maple Leafs in the same way. Watch for him on the ice brandishing the number 47 and making his dream a reality.