Business Student Receives 5 000 Scholarship and Trip to Toronto
Author: Liz Lemon-Mitchell
Posted on Jul 12, 2011
Category: Student Highlights
Kyle McDowell, a fourth-year bachelor of business administration student at UNB Fredericton, was one of ten business students across the country to receive $5,000 as a recipient of the 2010 Futures Fund Scholarship. Canada's Outstanding CEO of the Year established the Futures Fund Scholarship for Outstanding Leadership to honour and mentor Canadian university business students each year who have demonstrated exemplary leadership in their academic and extra-curricular initiatives.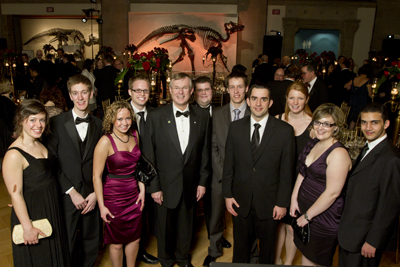 The award program provides exceptional and deserving students with $5000 grants to further their educational ambitions.
Ten new schools from across Canada are chosen each summer to receive the scholarships. In addition, recipients receive an all expense paid trip to Toronto to attend the Canada's Outstanding CEO of the Year Awards Gala where they are presented with their scholarship. This year's Award Gala took place in November at the Royal Ontario Museum (ROM), and was attended by some of the country's top businessmen. Attendees included Ed Clark, the CEO of TD Bank, who won this year's CEO of the year award; Paul Godfrey, President and CEO of the National Post; John Wallace, the President and CEO of Caldwell Partners; as well as several executives from many other Canadian firms.
"Going to Toronto and attending the Gala was one of the greatest experiences of my life," commented McDowell. "Not only did I get a scholarship to help pay for my education next year, but I've also networked with a lot of professionals who are willing to help me with my entrepreneurial goals. I am very grateful, I couldn't have asked for more".