UNB Business Student Receives Sobey Award
Author: Liz Lemon-Mitchell
Posted on Jan 30, 2008
Category: Student Highlights
Third year BBA student Lynn MacKinnon is a 2007-08 recipient of the prestigious Frank H. Sobey Award for Excellence in Business Studies. Lynn is one of six students across the Atlantic Provinces selected to receive this award, worth $10,000.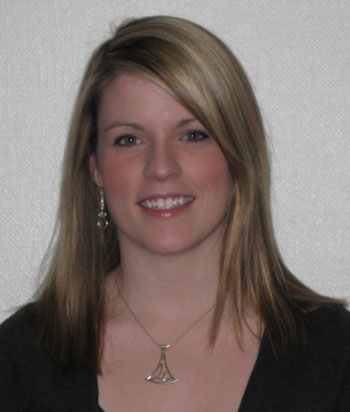 The Frank H. Sobey Fund for Excellence in Business Studies was established in 1989 in memory of Frank H. Sobey, the late chairperson of Sobey Inc. and Empire Co. Ltd. The Sobey Fund supports as many as six awards each year. To be eligible, candidates must be residents of the Atlantic provinces, have completed one year of business studies, and be enrolled full-time in a faculty of business at a university in New Brunswick, Nova Scotia, Prince Edward Island or Newfoundland and Labrador. After the Deans of business schools recommend recipients, the board of the scholarship fund make the final selections.
"We were really pleased to recommend Lynn for this award," said Dr. Stephen Grant, Associate Dean of Programs with the Faculty of Business Administration. "She is an excellent ambassador of our program and will be the same for the Frank H. Sobey Foundation."
A graduate of Hampton High School, Lynn is completing a BBA at UNB Fredericton with honours in human resource management. This term she is in Sweden through the UNB Study Abroad Program studying business from an international perspective at Umea University. As well as maintaining high academic standards, Lynn is involved in volunteer and community activities that make a significant difference in peoples' lives. She a member of the UNB Dance Club, and volunteers for such groups as UNB's RedShirt Orientation, UNB's branch of Best Buddies Canada, Relay for Life and Hampton's Food Bank.
Fourth year BBA student Ronald Girouard from Renous, NB received an honourary award from the Frank H. Sobey Fund for Excellence in Business Studies worth $500. This is the first year the Sobey Fund has recognized non-winning nominees selected by their respective universities as the Best All-Around business students in Atlantic Canada with a monetary award.