Future ready with real-world learning
Author: Ideas with Impact
Posted on May 30, 2016
One of the biggest challenges students face when they graduate from university and start applying for work is lack of experience. To help them meet this challenge, many business professors at UNB Fredericton include experiential projects in their courses to help students gain relevant experience and understand how business theory plays out in the real world.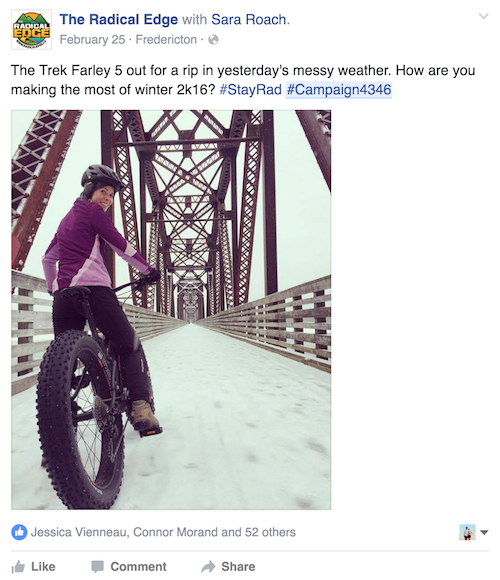 This past winter Dr. Hsin-Chen Lin, a professor of marketing with the faculty of business administration, teamed students in her  social media-marketing course with local businesses to plan and execute real marketing campaigns using social media.
Social media and marketing in the classroom
"Social media marketing is more than posting on Facebook or being good at hashtagging," said Adam Travis, a third-year BBA student in the class. In addition to managing a company's online presence, he said, "We focused on things like online etiquette and how to craft posts that would drive word-of-mouth awareness among consumers."
In the classroom students learned how people were applying marketing theory to social media platforms to promote their businesses. Next, they worked in groups to plan marketing campaigns using social media for the businesses they had been assigned. Then they launched their campaigns, tracked the results, and wrote reports on what they observed.
Testing ideas in the real world
Altogether, sixteen businesses in the Fredericton, New Brunswick area benefited from the students' ideas and efforts. These included restaurants and clubs like Sam Snead's Bar and Grill, Unplugged, and The Lunar Rogue; retail businesses like the Radical Edge and Read's Newsstand; and community groups like Don't Dis-My-Ability and Flourish Festival. They also worked with two UNB Fredericton groups, the Cellar Pub and the faculty of kinesiology.
The group that worked with Fredericton's first and only board games café, Unplugged, ran four week campaigns on Facebook and Instagram, including contests. While they saw low results on Instagram, they far exceeded their goals on the Facebook campaign. They witnessed first hand how this helped the business boost its brand awareness within a short period of time and for a very low cost –an exceptional outcome for a small business with a low marketing budget.
Future ready
The experience the students gained working with real businesses was invaluable. They were responsible for their businesses' social media networks over four weeks of the term and they got to test the theories they learned in the classroom. Best of all, they got to see how their ideas worked in the real world.
Fourth-year BBA student Jessica Vienneau said, "We learned more working with a real company and real managers. Knowing we were responsible for their reputation online and were trusted with the job, made the project a great learning experience."
Travis found the course practical and meaningful. "With Facebook ad revenue topping $17 billion in 2015, an increase of more than $5 billion over 2014, social media marketing and advertising are fast-becoming a part of every company's strategy. While the future of social media marketing is always evolving, it's a future I'm ready to face."
For more information contact Liz Lemon-Mitchell
Learn more about UNB's faculty of business administration and our programs