IDST Student Recognized by National Nurses Foundation
Author: Kyle
Posted on May 22, 2019
Category: Money Matters , Student Stories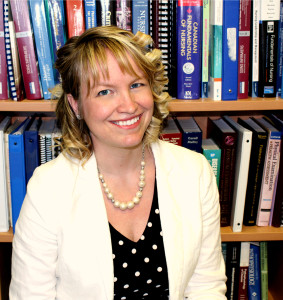 ---
A graduate student on the Fredericton campus has recently been recognized by a National Nursing Foundation for her work in the nursing field.
Myriam Breau, a PhD candidate with the Interdisciplinary Studies program, has recently been awarded $10,000 by the Canadian Nurses Foundation to support her PhD research which explores the influence of nursing staffing and skill mix on adverse events.
The financial support from the foundation will help Myriam better understand what exact roles nurses play that impact and prevent adverse events, with a long term goal of proposing recommendations to make significant low-cost strategies to help improve patient care and prevent patient harm as well as help develop a research program based on her doctoral study of improving patient care in our province.
Check out Myriam's bio on the CNF award page for more information on her graduate work, as well as her background leading up to starting her graduate program here at UNB.