The Law for All! Exploring UN Sustainable Development Goals with Girl Guides Canada
Author: Ed Bowes
Posted on Mar 12, 2020
Category: Faculty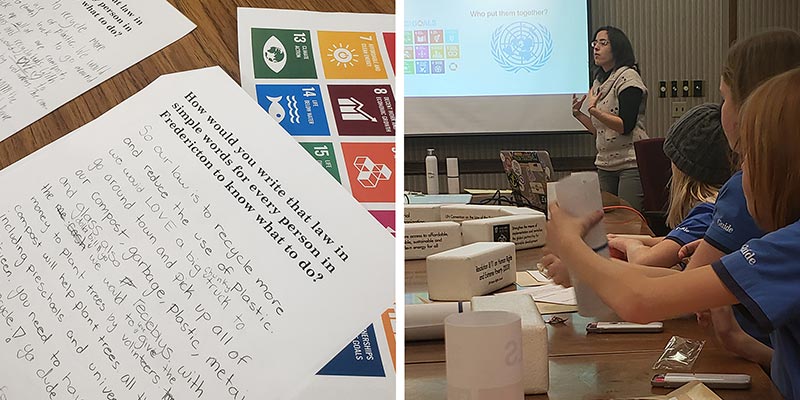 ---
Professor Maria Panezi recently met with a group of Fredericton Girl Guides to teach them about the United Nations Sustainable Development Goals (SDGs) and to discuss advocacy for ourselves and others.
Prof. Panezi's presentation, The Law for All!, focused on SDGs Quality Education, Gender Equality, Clean Water and Sanitation, Climate Action, and Life Below Water. The group discussed these topics, questioning how they affect girls around the world and how they affect the individual. She challenged the girls to create their own local, national and international laws to address sustainable development.
"This exercise was meant to first help students choose one SDG and prioritize what they thought was important," said Prof. Panezi. "Then reiterate what that SDG discusses, define a specific outcome they would like to achieve (policy) and draft the law (legislation) for a specific jurisdiction in a way that everyone understands."
The exercise quickly evolved into a complex discussion on income distribution and social inequalities (e.g., access to clean water), generic versus patented drugs and access to drugs for vulnerable groups (well-being), and finally, how to promote and structure recycling on a larger scale and direct funds from recycling gains to causes such as the protection of endangered species or people in need.
"Although the language used by the students in deliberating and drafting their "laws" may have been simpler," said Prof. Panezi, "the concepts discussed were complex, and the sensitivity and empathy shown by the students were impressive."
The event was organized by second-year law student Lori Wareham, who has been involved with Girl Guides Canada since 2014 and currently runs the 13th Fredericton Guide Unit. Wareham describes Girl Guides as a program designed to empower girls and help create inclusive spaces where girls can discover more about themselves, the world around them, their community, and each other.
"Part of our job in Guides is to support their curiosity and provide tools for them to better understand the problems that their community (and the greater world) are facing. These experiences are really important to the girls because they allow them to learn at a young age how capable they are at speaking up for what they believe in, and help them recognize their strength and worth."
Wareham was pleased to see these young women so engaged and empowered during the event.
"We discussed concrete examples of how small actions can spark big changes and what challenges exist in different parts of the world. And we talked about how our individual choices have a big effect. It was inspiring seeing their thoughts whirl when creating laws and discovering how accessible the solutions seemed to be, and how they could play an active part in making a difference and creating these changes."
"Our girls LOVED the event," added Wareham. "They really enjoyed speaking with Prof. Panezi about the experiences girls sometimes have in being stereotyped and what to do in those sorts of situations. They felt so empowered in the space created to talk about their own experiences."
Prof. Panezi believes that having conversations about the law with students in early education (as early as Pre-K) is not only possible but can be fascinating and fruitful.
"Assumptions, preconceptions, and prejudices, as well as a grasp of foundational notions such as bargaining and following or challenging rules, can occur very early. Exposing students to complex concepts at a young age is not only a worthy endeavour but a necessary one."