Professor Jula Hughes Awarded SSHRC Partnership Development Grant
Author: UNB Law
Posted on Dec 4, 2017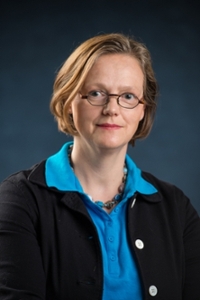 ---
UNB Law professor Jula Hughes was awarded a Partnership Development Grant from the Social Sciences and Humanities Research Council (SSHRC) of Canada as principal investigator. The grant was awarded as part of the SSHRC's November 2016 Competition Awards. Grants provided through the Partnership Program help support research partnerships in social sciences and humanities.
Responding to the crisis of Missing and Murdered Indigenous Women, Professor Hughes is partnering with the New Brunswick Aboriginal Peoples Council under the leadership of Chief Wendy Wetteland in a project entitled Looking Out For Each Other to develop a network of Aboriginal organizations, mainstream service providers and researchers. The project will create resources and provide assistance for Indigenous families and friends when a loved one goes missing.
The grant of $196,188 is supporting the research component of a research and community action collaboration between Native Councils and Friendship Centres in Eastern Canada, police services across the region, and researchers Professors Mirja Trilsch, Dominique Bernier and Doris Farget (UQAM), Laurel Lewey (St. Thomas), Naiomi Metallic (Dalhousie), Jennifer Shea (Memorial) and Elizabeth Blaney (NBAPC).  The New Brunswick Aboriginal Peoples Council was awarded a grant to support the community action component by Status of Women, Canada. Congratulations to Professor Hughes and the New Brunswick Aboriginal Peoples Council!
"This painting is for the missing and murdered Maliseet & Mi'kmak women that were almost forgotten. The five women in this piece represent knowledge, faith, wisdom, justice and peace. They are wearing our traditional peaked hats decorated with the double curve motifs. The wampum belt on the bottom is our promise to each woman that their lives will be remembered, celebrated, honoured. The wampum belt is also a promise to each Native woman that we have to rebuild our matriarchal standing within each of our families & communities. We must humble ourselves and learn and teach one another about who we are, where we come from and to not be silent and share our individual stories so we can empower our sisters, stay connected and strong and in turn we keep our families and communities strong. Their connecting shields are protecting us and reminding each of us that it is an obligation and a privilege to guard one another because we are all connected. As mothers and daughters, the living as well as the women who crossed the rainbow bridge we have to tell ourselves and each other our lives matter, we are important and we have to love and respect each other unconditionally and stand together." 
–Susan Sacobie