The History of Ludlow Hall
Author: UNB Law
Posted on Nov 7, 2017
Category: Research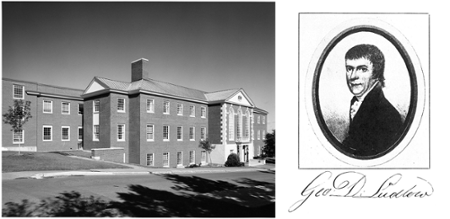 ---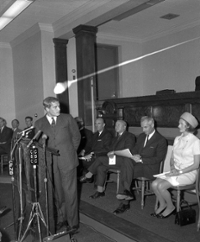 A characteristic of many Canadian law faculties is that classrooms, offices, library facilities and lounges are housed within a single building. At UNB that building is Ludlow Hall. Built with the support of Sir Max Aitken and the Beaverbrook Canadian  Foundation, it was opened in 1968 in a grand ceremony attended by many of Canada's legal luminaries. It was expanded to its present footprint in 1984.
In many ways Ludlow Hall is a gracious building. After three intense years in this intimate setting, students become very attached to it.
As with other UNB buildings dating from the 1960s, Ludlow Hall was named for a New Brunswick historical figure – in this case one of the province's Loyalist "founders". Before the American Revolution, George Ludlow (1734-1808) was a judge of the New York Supreme Court. In his New Brunswick exile he served for 24 years as the province's first chief justice. Informally he was called its "prime minister", reflecting his central role in drafting the colony's initial statutes.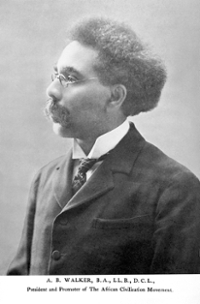 As UNB's very first Law student was of Black Loyalist descent [see Abraham Walker], it can seem ironic that Chief Justice Ludlow is best-known nowadays for holding that slavery in New Brunswick was lawful even in the absence of a statute legalizing it. On two occasions (1799, 1805) lawyers brought the general question of slavery before the New Brunswick Supreme Court. In both cases Ludlow was among the judges holding slavery lawful, though other judges disagreed. When abolitionists then stopped arguing the unlawfulness of slavery as a principle and began basing their case on legal technicalities (1806), Chief Justice Ludlow co-operated with them in defeating the master's claim.
References
On the three homes of the Law School prior to Ludlow Hall, see D. Bell,

 

Legal Education in New Brunswick: A History

 

(University of New Brunswick Faculty of Law, 1992)
On Ludlow's views on the lawfulness of slavery, see D. Bell, "Slavery and the Judges of Loyalist New Brunswick" (1982) 31 University of New Brunswick Law Journal 9–42
On Ludlow's willingness to defeat a master's claims on technicalities, see "Slavery and Slave Law in the Maritimes" (with J. B. Cahill & H. A. Whitfield) in B. Walker (ed), African Canadian Legal Odyssey: Historical Essays
Top right photo: Justice minister John Turner, the future prime minister, speaking at the opening of Ludlow Hall, 1968. UNB Archives & Special collections (Joe Stone and Sons Ltd fonds, UA RG 340)
Bottom right photo: A message to the public by Dr. A. B. Walker, president and promoter of the African Civilization Movement (Saint John, 1905; copy in Special Collections, Vaughan Memorial Library, Acadia University, Wolfville, Nova Scotia) (copy of inside front cover photographed by M. Gochnauer)
Header image: Archives & Special Collections, UNB Libraries. UNB Public Relations Dept. Photograph Collection, File 541, no. 2