Law professor emerges triumphant in first UNB teach-off
Author: UNB Law
Posted on Apr 11, 2017
Category: Faculty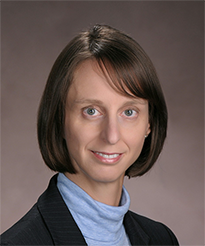 For a short time on March 21 at the University of New Brunswick's Fredericton campus, an ordinary lecture hall became a pedagogical crucible. Five professors threw down their best five-minute lessons to see who would emerge the winner of the first-ever UNB Teach-Off, organized by UNB's Centre for Enhanced Teaching and Learning.
The five professors, Ben Newling (Physics), Cheyenne Joseph (Nursing), Andrew McAllister (Computer Science) and Jon Sensinger (Electrical & Computer Engineering), came armed and armoured with innovative techniques and sharp presentation, fought valiantly, but in the end it was Nicole O'Byrne (Law) who won the day, explaining to the more than 200 gathered exactly what their rights were in the (hopefully unlikely) event they were arrested. The winner was determined by text vote, and Dr. O'Byrne believes that was to her advantage.
"The reason I won is my first-year criminal law students came out in force and they all have phones," joked Dr. O'Byrne. "The other four competitors are teachers at the top of their field – they're all excellent."
Guest emcee Mark Roberts from The Fox 105.3 radio station introduced each competitor in boxing-match style, complete with walk-up songs and tag lines. 
During the lively, one-hour event, fans cheered loudly for their favourite competitors and waved home-made signs.
Ken Reimer, director of Centre for Enhanced Teaching and Learning, says the Teach Off was intended to show a different side to teaching.
"We purposefully did it more theatrically and more fun than probably the average lecture," said Mr. Reimer. "Teaching can be fun and doesn't have to be plodding and serious. It was great to see these five in action and observe the interesting classroom teaching techniques used today."