UNB researchers share teachers' COVID stories, insight.
Author: UNB Research
Posted on Apr 1, 2021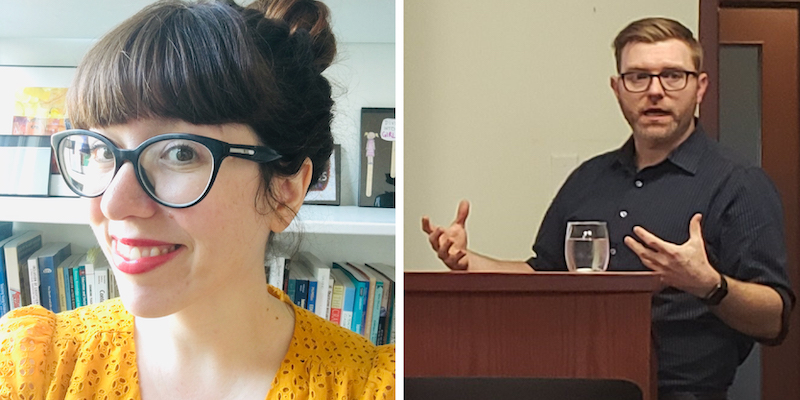 ---
Public education reform: addressing equity issues
Around the world, researchers across different fields and disciplines are working to address the challenges, issues and implications of the 2019 novel coronavirus pandemic. Here at UNB, our own research community is part of that global movement.
Last year, we introduced you to 13 new, funded COVID-19 research projects and their teams; now, with a full year of pandemic life behind us, we're checking in to see what they're working on and what they've accomplished. Want catch up with the other teams? Keep an eye on this page for updates!
Dr. Matt Rogers and Dr. Casey Burkholder (Education, Fredericton) have been researching the changes in New Brunswick's education system during, and will continue after, the pandemic, specifically focusing on the lasting impact that COVID-19 will have on educational reform in New Brunswick.
In addition to sharing the voices of the teachers at the front line of the pandemic, one key goal that the researchers have emphasized is wanting to provide valuable insight for policy makers in making equitable and ethical decisions about priorities for reform. In an academic context, they seek to provide information for educational researchers to analyze questions about education in, and beyond, this moment of crisis.
One significant change they have made to the project has been from providing stakeholders with monthly to quarterly findings reports. They made this change because of increasing workloads on teachers and changes in the school system. The researchers seek to work with teachers to understand and communicate their experiences, and did not want to add additional burden to their already challenging year.
Dr. Rogers and Dr. Burkholder have published two reports since the fall of 2020, and are currently conducting interviews with teachers for the third report. (You can read these reports here: [Report 1: October 2020], [Report 2: January 2021].)

A significant theme that emerged from the project is that the equity issues among teachers and students that exist in a normal school year have been exacerbated by the pandemic. Some examples of these issues include securing student access to food security throughout the pandemic, differing access to technology and to internet services, and the challenge of caring for children, elders, and family members with health needs. The discussions about equity issues, increased workloads and mental health challenges as a result of increased experiences of stress and work with no additional time to address these challenges have been the some of the key features emerging from their interviews.
For example, teachers have raised concerns about some students not having equitable access to learning materials and social services being offered by schools with the way things are currently set up.
Students who access resource support, where a student is provided one on one support for physical, behavioural, and/or learning challenges, were without resource access at home from March to June of last year. What is more, teachers have additional tasks because of the pandemic, including monitoring students' social distancing and mask usage, and additional preparation for both in class and online teaching.
One teacher, for example, talked about how difficult it is to do lab work because they are required to sanitize between class changes, which takes up the limited time before or after classes.
The researchers have found that teachers are asking for more time and more resources (both human and financial) to address these challenges. The researchers describe how teachers do not have enough time for assessment within a regular work day and are experiencing more distress, both at home and the workplace, because their whole day is filled with instruction and planning.
Teachers also stressed to the researchers the importance of communication from administrators and decision makers, and felt that communication methods could be improved through collabration.
"For example, teachers told us that learning about decisions and changes to operational plans from public briefings created quite a bit of stress for them," said Dr. Burkholder.
Dr. Burkholder also expressed the importance of using qualitative research methods in order to learn about details and nuance in individual teachers' experiences, which is something a survey cannot convey.
"Teachers are experiencing very challenging workloads and it's really important for us to witness that and to provide a space to speak about what matters to them in a way that they can be anonymized," said Dr. Burkholder.
Another significant theme from their interviews highlights the changing relationships and dynamics between teachers and students under the current configuration.
"Teachers were talking about how they were no longer in the same classroom together during the initial lockdown. What does it mean to manage a classroom when people are in their homes? What are boundaries that we need to create?" asked Dr. Rogers. "There were these interesting things you don't really anticipate these things until you're in it. There are new boundaries and dynamics being created because of the way we are engaging with each other."
Dr. Rogers and Dr. Burkholder plan to continue their data collection until the end of the pandemic.
"I want us to be thinking about these equity questions in the system that gets created. I want the decisions that are made during this time to be ones that are ethical and equitable. I have a toddler who is going to be going to school in the education system that's on the other side of this pandemic. So, I want to make sure that we're doing things in a thoughtful way," said Dr. Rogers.
This research is funded by the New Brunswick Innovation Foundation, the New Brunswick Health Research Foundation, and the Atlantic Canada Opportunities Agency as part of a special COVID-19 funding program.
Media: If you are interested in this story, and would like more information, please contact Jeremy Elder-Jubelin, Marketing and Communications Officer in the Office of Research Services.
More information:
Dr. Matt Rogers | Dr. Casey Burkholder | Faculty of Education | Master of Education in Critical Studies
Research at UNB | Graduate Studies at UNB | Postdoctoral fellowships
Related Pages: Where are they now? COVID-19 researchers update us on their progress