COVID-19 research: Public education reform
Author: UNB Research
Posted on Aug 13, 2020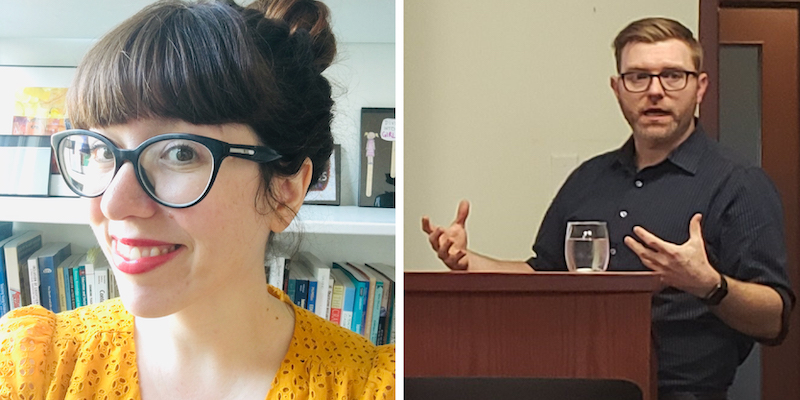 ---
Around the world, researchers across all fields and disciplines are working to address the challenges, issues and implications of the 2019 novel coronavirus pandemic. Here at UNB, our own research community is part of that global movement.

Last month, we announced 13 new, funded COVID-19 research projects; here's a little more about the expertise, the passion and the capacity behind one of them. Want to read the others? Find the full list of stories here.
Dr. Matt Rogers and Dr. Casey Burkholder (Education, Fredericton)

Dr. Matt Rogers and Dr. Casey Burkholder are researching the response to changes in New Brunswick's public education system during and after the pandemic.
Who are you?
Dr. Burkholder and I are members of Faculty of Education at UNB. We teach in the Critical Studies graduate program and teach Social Studies, Foundations, and Arts Education courses in the Bachelor of Education. We have similar research interests, and we are collaborating on three SSHRC funded projects that explore collaborative media and arts-based research with youth and community stakeholders.
We are both former public school educators, and we continue to have strong ties to public education in New Brunswick. We regularly collaborate with curriculum development with the EECD, create educational resources, provide teacher professional learning, coordinate school programing, and take part in educational outreach.
Dr. Burkholder is also conducting participatory visual research projects exploring the absence of NB queer communities' histories in Social Studies classrooms and curricula; the notion of dystopias with queer and racialized youth; how queer youth from New Brunswick and Nova Scotia might produce art pieces and then create a travelling archive of this work to share in schools and community centres across Atlantic Canada; and the supports and barriers to teaching sex education in New Brunswick.
My research program focuses on critical and collaborative documentary filmmaking in research and education. One of these projects involves exploring how young people are engaging in media-making in school contexts to address social issues. I am also a filmmaker, and along with Dr. Robert Gray (Dept. of English, UNB) and Jon Dewar, I am a co-owner of the film production company Frictive Pictures. Together, we have produced over 20 short fiction and documentary films that have screened at national and international film festivals. Last year, we premiered our first feature film, Entropic (Written & Directed by Dr. Robert Gray). Frictive is also a partner on this COVID-19 research project, providing equipment and technical support to the media components of the study.
What are you working on?
We are particularly interested in the lasting impact that the COVID-19 pandemic will have on educational reform in New Brunswick. What education policy, curriculum or pedagogical reforms occur during/after the pandemic? How are these reforms experienced by stakeholders during and after the pandemic?
Recently, when presenting the Continuity of Learning Plan in response to the COVID-19 pandemic, George Daley, Deputy Minister of Education, said: "I know we're in a difficult situation here, but I think coming out the other side, we've got a chance to reform education in a way that we've never had before".
We have no doubt that a new education system and society will emerge from this crisis. In this moment, we think it is important that our policymakers and educators have information available to make thoughtful, ethical and responsive judgements about policy and practice. We risk losing critical understandings if key questions are not asked and information is not archived. How do students, educators, parents and policymakers respond to the crisis and education change? What institutional or social factors shape or limit reform? What does not change, and why? What forms of resistance to reform surface? What equity issues arise or are overlooked during reform? How do policymakers respond/not respond to these issues?
With these questions in mind, our focus is on rapidly creating and sharing information about how people respond to the crisis and education reform in NB. We hope to recruit a wide variety of people, including parents, teachers, administrators, NBTA and NBTF officials, EECD officials, and other stakeholders to take part in recorded videoconference interviews focused on education during and after the pandemic.
To provide stakeholders and policymakers with information for critical decision-making, we will release monthly online reports starting later this summer. After the 18 months we will develop a final report, a documentary film based on that archival materials we collected, and work on a series of journal articles.
Why did you decide to work on this research?
Health and science research on COVID-19 is very important right now, but we also think social science and humanities research plays an important role in understanding this moment and in shaping the world that emerges from this crisis.
In education, a lot of our focus is on technical and practical questions. How do we offer instruction at a distance? What educational methods work well online? While these are important question that support the work of teachers, students, and families, we think there is also a need for educational researchers to focus on other, equally important, questions.
The COVID-19 crisis, and our collective response in education in New Brunswick, will have lasting implications. We are already seeing the reallocation of resources and government priorities shifting – for example, the recent redeployment of District-level Diversity and Inclusion Specialist Leads. New priorities, policies, practices, and industries will be established to address changing educational needs. In this moment, it is important that we engage critically with the currents of change and their enduring effects.
To understand the new system, and its positive and negative impact on students, parents, teachers and society, we need to explore key questions about our experiences during this time.
We hope our work can support policymakers in making equitable and ethical decisions about priorities for reform during and after the crisis. We want the research to influence policy discussions and foster communication between stakeholders, industry leaders, and government so that New Brunswick's education system can best serve our communities.
In an academic context, our project will focus on extending theory on education reform, developing new concepts on educational equity in times of crisis, and contributing to understandings of the history of Canadian education. While we hope this work will be immediately useful for policy makers, the archive can provide a wealth of information for educational historians to analyze bigger and deeper questions about education in, and beyond, this moment of crisis.
This research is funded by the New Brunswick Innovation Foundation, the New Brunswick Health Research Foundation, and the Atlantic Canada Opportunities Agency as part of a special COVID-19 funding program.
Media: If you are interested in this story, and would like more information, please contact Jeremy Elder-Jubelin, Marketing and Communications Officer in the Office of Research Services.
More information:
Dr. Matt Rogers | Dr. Casey Burkholder | Faculty of Education | Master of Education in Critical Studies
Research at UNB | Graduate Studies at UNB | Postdoctoral fellowships
Related Pages: COVID19 Research Stories