Precast concrete construction benefits, challenges and innovative solutions
Author: Samira Rizaee
Posted on Feb 27, 2023
Category: Events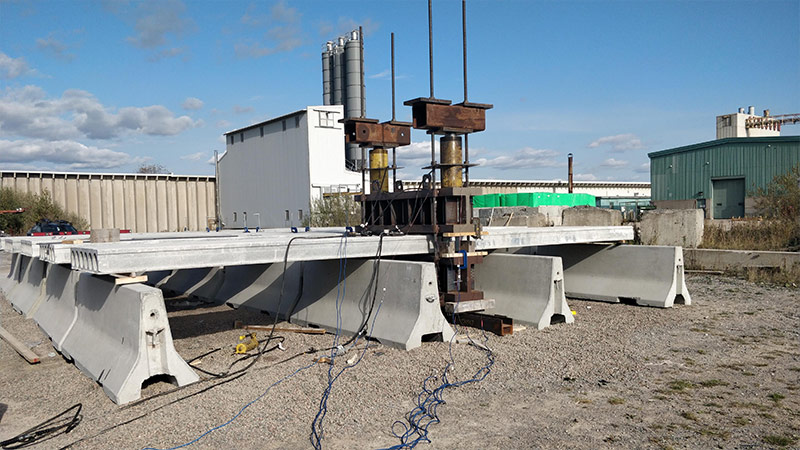 ---
In precast concrete construction, reinforced or prestressed concrete components such as beams, columns, slabs, stairs, etc. are built off-site in a factory and erected at a construction site in matter of days or weeks. This method reduces construction assembly time by maximizing the amount of work done in the factory. In addition, it facilitates curing of concrete in a controlled environment.
Producing precast concrete products in an off-site manufacturing facility offers many benefits when compared to traditional cast-in-place methods, such as:
Safer work environments for the construction team by minimizing working at heights and by working in a controlled and supervised environment.
Removal of the impact of unfavorable outdoor conditions such as rain or snow on project progress
Automatization of processes such as rebar placement, pre-tensioning and pouring concrete
Increased overall efficiency and productivity by minimizing the human error component and clean dry indoor construction
Higher quality products by improved casting and concrete curing in a controlled environment
Increased product consistency
Reduced waste and carbon emission through increased opportunities to recycle and reuse materials and optimized construction scheduling
Although the list of benefits is long, precast concrete construction comes with its own challenges in areas such as the weight of the components, the lifting and rigging required, transportation requirements, insulation, connection detailing, mechanical-electrical-plumbing (MEP) accommodation, and accumulation of errors. There are also environmental impacts of precast concrete to consider, such as the increase in carbon emissions from the factory and the carbon footprint of long-distance transportation.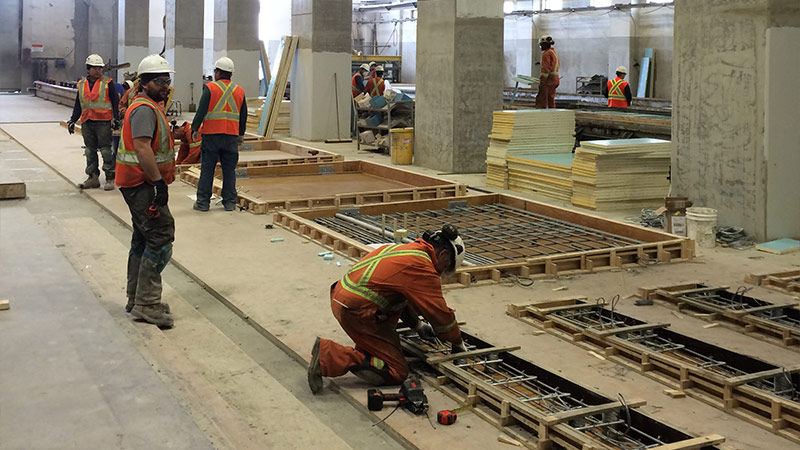 Our work
The Off-site Construction Research Centre (OCRC) and the Department of Civil Engineering have been collaborating with precast construction industry leaders. The goal of these collaborative efforts is to utilize our expertise in precast concrete research to solve industry problems and bringing innovative solutions to the challenges that the industry faces. Current research focuses on several key areas including:
The effect of core fill timing on shear capacity in prestressed hollow core concrete slabs (research by Taylor Quinlan)
a. Filling the voids in hollow core planks at the end regions increases the shear capacity by reducing the transfer length
b. Using bond breakers reduces the final shear capacity
c. The timing of core fill placement did not affect the final capacity
Evaluating the end region load-bearing capacity of prestressed hollow core slabs
a. Effects different grout filling methods on the capacity is being studied
b. The findings will improve total precast building design by quantifying the bearing capacity of a slab and number of stories that can be built over it.
Developing efficient connections to simplify precast wall assembly and reduce accumulation of errors.
a. Initial connection strength tests are underway followed by assembly tests.
Building a cutting-edge structural and environmental testing facility to assess the air and water tightness of modular wall assemblies including precast and their impact resilience in hurricane simulations.
Exploring cost-effective ultra-high performance concrete (UHPC) mixes that offer strength and durability, even in arctic climates.
a. Possibility of using UHPC precast concrete panelized or volumetric for northern climate modular housing is being explored.
With these efforts, precast concrete construction is poised for even greater success as it becomes easier to design and implement, leading to increased utilization and benefits for the construction industry.
Real-world examples of pre-cast concrete applications
Recently, Beaverbrook Art Gallery in downtown Fredericton has expanded and used architectural precast. 234 architectural precast elements including piers, pier bases, steps, wall panels, upper and lower fascia panels, interior portal panels and precast benches.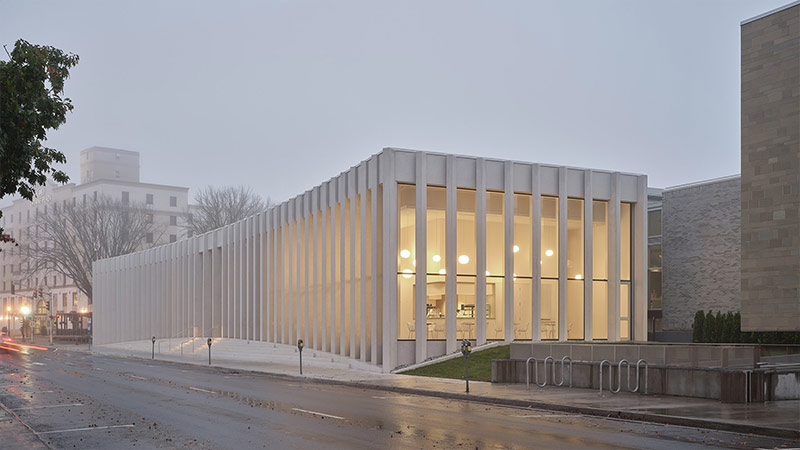 Another project is "The Putman Family YWCA" in Hamilton, ON, a total precast concrete-passive house (TPC-PH). This is the first mid-rise TPC-PH building in Canada. The building includes 50 affordable housing units and two levels of community centre space. In this project double-wythe insulated "PH Certified' precast concrete precast walls offer both insulation and airtightness.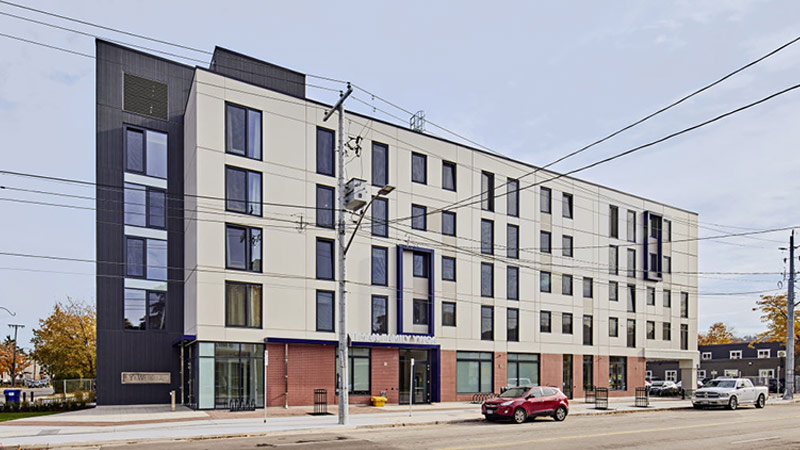 Looking ahead
While our team recognizes the benefits precast concrete construction offers over traditional cast-in-place methods, we know there are also challenges to be addressed. With our ongoing efforts at the Off-site Construction Research Centre and our work with industry leaders, these challenges are being addressed through research and innovation.
Real-world examples like the Beaverbrook Art Gallery and the Putman Family YWCA demonstrate the successful application of precast concrete in modern construction. As this technology continues to evolve and improve, it has the potential to revolutionize the construction industry and offer even more benefits to builders and clients alike.
If you're an organization that works in the pre-cast concrete space and are looking to innovate, reach out to the OCRC today at offsiteconstruction@unb.ca.