Brandon Searle Recognized as Top 40 Under 40 in Canadian Construction
Author: OCRC
Posted on Dec 8, 2022
Category: Awards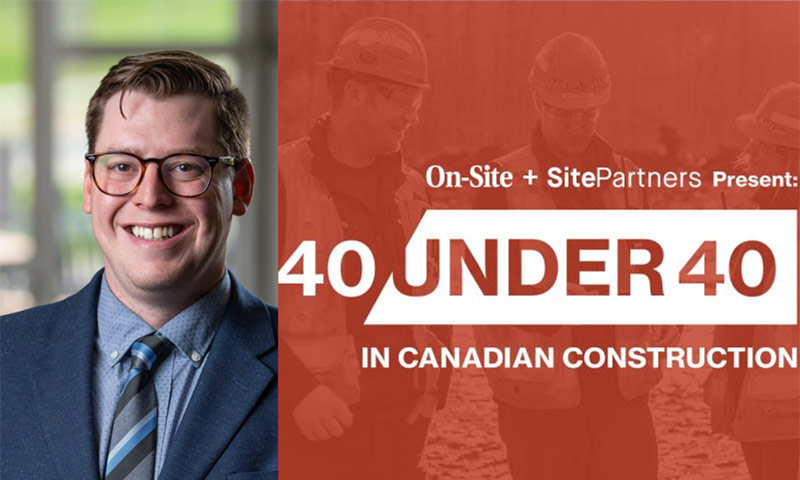 ---
Brandon Searle, Director of Innovation and Operations, UNB OCRC, was recently named as one of the top young Canadian construction professionals in the third edition of On-site Magazine and SitePartners' "Top 40 Under 40 in Canadian Construction."
The list recognizes innovators and professionals who have a vision, not just for their organization but to leave an impact on the industry.
Brandon is the Director of Innovation and Operations at the UNB Off-site Construction Research Centre. As his title defines, in his role with the Centre, Brandon leads the execution of innovation toward developing new research infrastructure and facilities, securing additional national and international industry partners that contribute to regional and national growth and maintaining partner relations. Since the OCRC's inception in 2019, the Centre has grown threefold with staff and expanded to a national executive board aiding in the strategy and direction of the Centre, all under Brandon's leadership. Additionally, the OCRC has received over $6M in support from private and public organizations as a way of showing their trust in the Centre's vision. The OCRC is also leading research for Ocean Steel and Construction Ltd., Strescon Limited, Iron Maple Constructors, Malta Inc., Bird Construction and many more.
In addition to his current role with UNB, Brandon sits as a Board Member and Secretary for Building Transformations (formerly CanBIM), co-chair of the Prefab, Off-site and Modularization Think Tank with Building Transformations, an active member of the Off-site Construction working group at the International Council for Research and Innovation in Building and Construction (CIB), as well as various voluntary roles with the Canadian Network of Asset Managers, the Canadian Society for Civil Engineering and CSA Group.