Experiential learning programs provide students with a competitive advantage
Author: UNB Newsroom
Posted on Mar 1, 2023
Category: UNB Fredericton , UNB Saint John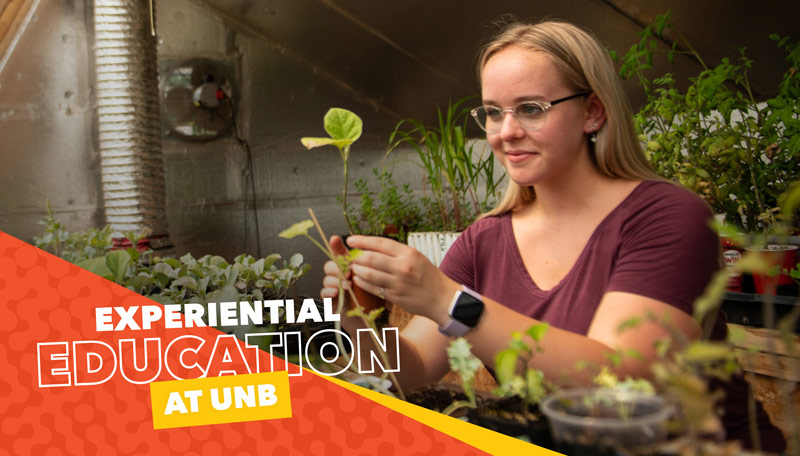 In today's world, students thrive on having opportunities to dig in and get their hands dirty. They look for the most impactful way to enhance their degrees and they want to make a difference in their communities and beyond.
With that in mind, the University of New Brunswick (UNB) has put experiential education at the forefront of its strategic vision. As one of Canada's top-ranked comprehensive universities, UNB provides students with this competitive advantage to meet their goals and excel in their careers.
What is experiential education?
Experiential learning is more than what you may think. It is about students living what they're learning. It is an educational framework that allows students to construct knowledge, skills and value from authentic experiences and reflection.
Students who participate in experiential education take what they learn in the classroom and apply it to real-world challenges. They engage with partners who serve as co-educators from academic, non-profit, industry and government organizations to help solve problems in innovative ways.
Where aspiration meets reality
UNB works directly with students to help them access various experiential education opportunities throughout the year. These opportunities can be customized depending on the partner engaged, as was the case with Luke and Grace MacLean, twins and bachelor of science in environmental management students. The MacLean siblings were among the first cohort to participate in a two-week experiential learning research project in the Republic of Croatia.
These opportunities can also be curricular or co-curricular in nature. UNB faculty members often integrate curricular experiential learning into their courses. One of them is Dr. Emin Civi, a professor of business at UNB's Saint John campus. His students are involved in a fundraising project that aims to help them comprehend their target market better and develop effective marketing strategies.
UNB is a national leader in experiential education
Since 2018, UNB's Office of Experiential Education (OEE) has distributed over $10 million in funding to support experiential learning, helping to provide every student with the chance to put theory into action.
For the 2022-23 academic year, OEE has allocated $4.1 million to support over 1,500 students with financial support for experiential learning.
UNB has recently begun tracking the experiential projects students participate in within their academic classes as well. In the winter of 2022 alone, over 5,000 students participated in a course that featured some form of experiential learning. UNB's faculty and staff work diligently to ensure that all students can engage with experiential learning during their degree programs.
Investments like these empower students. For example, UNB Saint John grad Niomi Monteiro (BBA'22) landed a job with one of UNB's partners before she even crossed the graduation stage. And Mike Harrington (BScSwE'15) took part in five co-op work terms over the course of his degree, including one with Populus Plus, a cloud-based health information system used to support collaborative care and keep track of patients and encounters with doctors. Harrington now works at Populus and serves as director of software development.
Opportunity beyond the classroom
UNB's experiential learning opportunities help develop graduates who are problem solvers and changemakers who are equipped to build the careers of their dreams. They are highly skilled and ready to fill the needs of their communities. These opportunities allow UNB students to connect with partners before graduation, increasing the potential to be hired post-graduation.
Whether it be participating in experiential education opportunities that build the next generation of health professionals, advocates and communicators or allow them to exchange information and solve problems with industry leaders in the construction industry, UNB students stand out in the crowd.
Partnering for a better future
UNB is committed to its experiential education partnerships to build a better future. This strengthens the bridge between academia, industry and government, which allows them to open doors and contribute to a stronger New Brunswick.
With over 3,200 partners taking part in 13 types of experiential learning, UNB connects students with their communities.
Jennifer Lennox (BSc'04, MScE'05), UNB alum and chief nuclear engineer at Point Lepreau Nuclear Generation Station, believes in the importance of providing mentorship opportunities for the next generation. And because of quality work-integrated learning opportunities, nursing students on UNB's Saint John campus work with several community partners, including the Fredericton Downtown Community Health Centre, Canadian Forces Base Gagetown, Sitansisk First Nation and the Multicultural Association of Fredericton (MCAF).
The New Brunswick Institute for Research, Data and Training (NB-IRDT) is also involved in and helping to meet UNB's commitment to creating experiential education partnerships because they believe student retention is critical to New Brunswick's success. Through their Pathways to Professions (P2P) program, they provide students with hands-on research work experience, research method training and a full professionalism-building curriculum.
"The bridge between school and future work, with data and evidence-based decision-making at the core of everything NB-IRDT does, is allowing us to help open doors for students into public policy and related sectors. In so doing, experiential learning contributes to a stronger New Brunswick for all," said Dr. Ted McDonald of NB-IRDT and professor of political science on UNB's Fredericton campus.
There is no doubt that experiential learning allows students to make an impact while they study.
March is National Work Integrated Learning (WIL) Month, sponsored by Co-operative Education and Work Integrated Learning Canada (CEWIL Canada). Throughout this month, UNB and universities across Canada will recognize the wide range of experiential opportunities available across its campuses.
Learn more about experiential education at UNB and discover how to gain a competitive advantage to meet your goals.