UNB is opening doors to graduate education for bachelor of health students
Author: UNB Newsroom
Posted on Nov 16, 2022
Category: UNB Saint John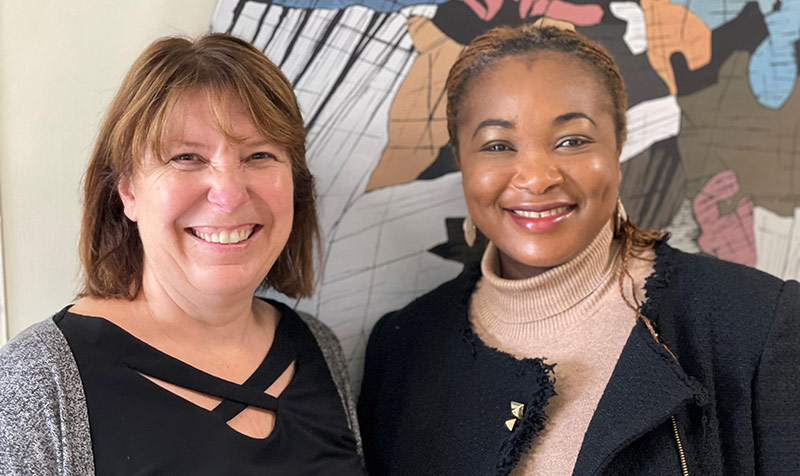 The University of New Brunswick (UNB) will now offer the honours distinction for qualified students enrolled in the bachelor of health program. This is another step in the growing expansion of the Integrated Health Initiative (IHI) at UNB.
As the world of health and healthcare grows more complex, the bachelor of health program at the UNB Saint John campus is training and preparing the next generation of health professionals, advocates and communicators to help solve the grand challenges we face in society today.
Beginning Sept. 2023, the first cohort of graduating students will be eligible to complete an undergraduate thesis as part of the honours stream. Program coordinator and business faculty member, Dr. Mercy Oyet, marvels at the growth in enrolment the program has already achieved.
"We exceeded our enrolment target the first year we offered the program and tripled enrolment the following year," explained Dr. Oyet. "The enrolment growth illustrates how UNB is meeting the needs of the province and helping the new generation enhance social prosperity for all New Brunswickers. The quality of engaged students is truly amazing."
Dr. Oyet also recognized the invaluable contributions of the first program coordinator, Dr. Lisa Best who teaches in the department of psychology.
This is the advantage of the bachelor of health program, it brings together specialized interdisciplinary teams to explore the broad concept and the many complex facets of health and solve problems collaboratively.
Students are required to take nine core courses focusing on topics like global health, Indigenous practices and Canadian health systems. The coursework focuses on research methods, data analytics and communications to prepare students to excel as healthcare administrators and policymakers, future medical professionals and informed citizens.
Students declare a specialization in society and health, management in health or biomedical sciences and health, which aligns with the three core faculties (social sciences and humanities, health sciences and business) at UNB Saint John.
About UNB
The University of New Brunswick (UNB) is Canada's oldest English-language university, and New Brunswick's only national comprehensive university. Founded in 1785, the multi-campus institution has a rich history as well as a dynamic focus on innovation, experiential learning and entrepreneurship. UNB has more than 9,500 students from nearly 75 countries while several thousand more take UNB courses online and at partner institutions around the world.