UNB nursing students showcase community partnership
Author: UNB Newsroom
Posted on Dec 7, 2022
Category: UNB Fredericton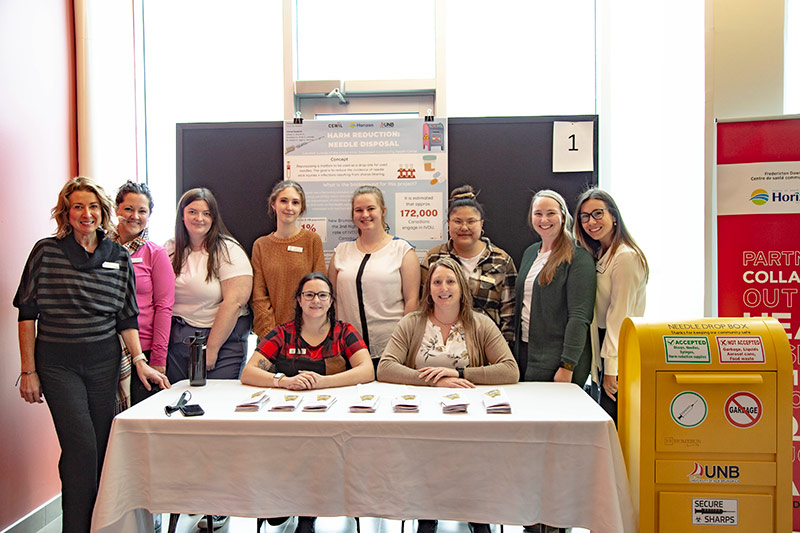 At a recent event, third-year nursing students at the University of New Brunswick (UNB) showcased their partnerships with local community organizations.
As part of the clinical component of their classroom learning, nursing students from UNB's Moncton site and Fredericton campus partnered with several organizations on projects related to community health. This experiential approach allows students to fully integrate their academic learning by applying classroom knowledge while acquiring essential practical skills.
During this showcase, students had the opportunity to highlight their learnings from their time in the field. Some of the key takeaways have been identified as the importance of the social determinants of health and the harms associated with the stigmatization and marginalization of those who have experienced substance use, adverse childhood experiences, trauma, isolation, poverty and inclement with the justice system.
"Students worked with organizations of their choice; learned about their services and identified areas of improvement," explained Sarah King, director of UNB's Office of Experiential Education. "Students applied their classroom learnings and completed an assessment, which identified community needs that guided their final project. They then planned, executed, and evaluated a project that addresses the needs of the organization's clients. This is what was so greatly presented at this showcase. Opportunities like these help UNB students to gain valuable skills and also help our communities improve. Experiential learning helps UNB be a university of impact in our province."
These projects and others have been funded in part by the Government of Canada's Innovative Work-Integrated Learning program and CEWIL Canada's iHUB. UNB has received more funding from this program than any other university in Canada in 2022-23, helping support students and community partners with much needed funding and growth.
"The nursing projects out of UNB are outstanding. Students receiving a quality work-integrated learning experience, partners receiving much needed support, and community benefiting from the community nursing project," said Krista Steeves, regional associate director, Atlantic and Central Region Co-Operative Education & Work, Integrated Learning (CEWIL) Canada. "It does not get much better than that in education, the impact is felt everywhere and we at CEWIL are so happy to be able to support this learning. This is what we do at the Ihub and we could not be more thrilled to continue to work with UNB."
Students in NURS 3068 worked with several community partners, including the Fredericton Downtown Community Health Centre; Canadian Forces Base Gagetown; Sitansisk First Nation and the Multicultural Association of Fredericton (MCAF)
A sampling of the projects included harm reduction through a needle and sharps safe disposal site; occupational health and safety at a large military training base; learning about Indigenous healing approaches and supporting and integrating newcomers into Canadian life. Students developed posters depicting the outcomes of their community projects.