UNB alum leading the charge in Canadian nuclear industry
Author: UNB Newsroom
Posted on Jan 17, 2023
Category: UNB Fredericton , UNB Saint John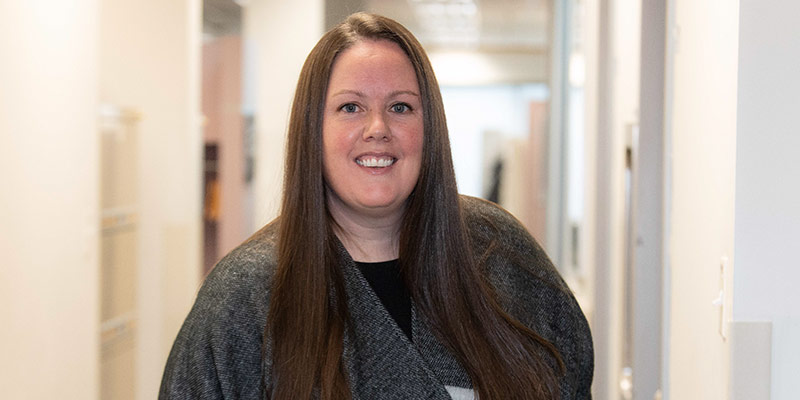 A University of New Brunswick (UNB) alum is leading the charge as the first female-identifying chief nuclear engineer (CNE) at an operating utility in Canadian nuclear industry history.
Jennifer Lennox (BSc'04, MScE'05) was named CNE of Point Lepreau Nuclear Generating Station (PLNGS) in October 2021. Owned by NB Power, PLNGS is the only nuclear generating facility located in Atlantic Canada and the only operating Canadian nuclear power station located outside of Ontario. Through her role, Lennox ensures the safe operation of the station while removing barriers to success for her team and working collaboratively with industry peers to identify and share best practices.
Before joining NB Power in 2009, Lennox was employed as a research engineer at UNB's Centre for Nuclear Engineer Research (CNER). At PLNGS, she has held the positions of manager of reactor safety and manager of systems engineering.
Engineering graduates from UNB are diverse leaders who solve problems and foster creativity
After graduating from UNB with her BSc, Lennox worked with the Association of Professional Engineers and Geoscientists of New Brunswick (APEGNB) to qualify for UNB's engineering master's degree program.
"APEGNB set me up with my first qualifying year," she said. "They loaded me up with a lot of core engineering undergraduate courses and I had to prove I could do it."
Once she completed course requirements, Lennox was admitted to the master's program in chemical engineering. While studying at UNB, she worked at CNER.
"Working with CNER provided me with a connection with NB Power, which ultimately led me to my career now," Lennox said.
Reflecting on her time at UNB, Lennox said she continues to support and give back to the UNB community when she can.
"I made many friends in the engineering department and many of them either work on my team or work in other departments at NB Power," Lennox said. "I think it all comes back to that family atmosphere we built at UNB.
"You're not just a number at UNB," she continued. "UNB offers the same amenities of a large university but with intimate class sizes. You have a family-type environment where students, faculty and staff know your name and everyone supports each other. I stay connected with many of my professors."
Collaborations that create unique pathways for students to provide opportunities for educational experiences unavailable elsewhere
Lennox believes it is important to provide mentorship opportunities for the next generation of engineers. Last winter, she participated in the Women in the Workplace panel for the UNB Diversity Within Engineering group. She also actively supports the UNB engineering co-op program.
"Oftentimes, we will hire students once they have completed their co-op placements with us," she said. "We also work with students on their final year capstone projects, which gives them access to full-time engineers and various leaders in the nuclear station."
Through the 30x30 initiative, Engineers Canada has committed to raising the percentage of newly licensed female-identifying engineers to 30 percent by the year 2030. UNB's faculty of engineering is on target for that goal. As a female-identifying woman in a male-dominated industry, Lennox sees a shift coming on and the best way she can explain it is by describing her own experience.
"I've never viewed myself as different," she said. "I acknowledge that there are hardships and there are societal challenges, but I have never thought to myself that I cannot do something because I am female. I have never viewed myself as less than my male counterparts and neither has UNB or NB Power."
UNB's engineering program equips students with the skills to be leaders and entrepreneurs through research of national importance
Lennox explained how she has never lost her connection to UNB throughout her career. She still works closely with CNER and enjoys seeing the next generation of engineers thrive.
"Staying local and working for NB Power is what drives me," she said. "We are committed to supporting the province and our partnership with UNB allows us to maintain that commitment."
The UNB engineering students of today are exposed to a variety of clean energy education and research opportunities through institutes like the CNER that are advancing knowledge and energy security. Key projects such as smart grid technologies and small modular reactors are revolutionizing conventional power grids worldwide and UNB is at the forefront of this emerging field.
At UNB, engineering students become qualified engineering leaders like Lennox. Leaders who impact, invest and innovate areas of growth will shift the future of our province.