First cohort of UNB students travel to Europe for STEP program
Author: UNB Newsroom
Posted on Oct 20, 2022
Category: UNB Fredericton , UNB Saint John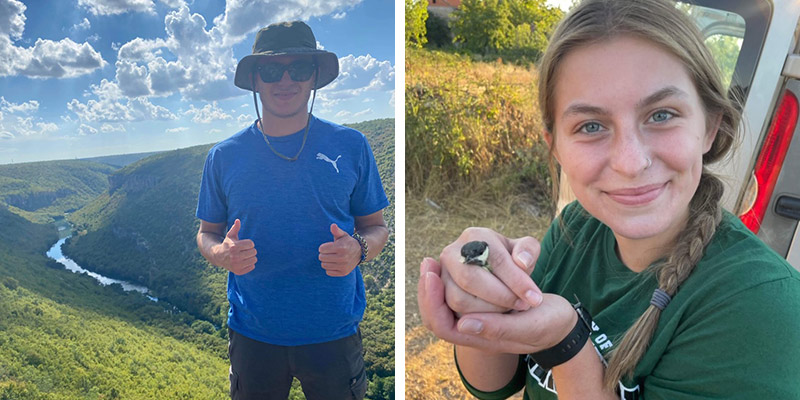 Last summer, brother and sister twin duo and bachelor of science in environmental management students Luke and Grace MacLean, headed to the Republic of Croatia for a two-week work-study opportunity where they conducted terrestrial and marine research.
The opportunity was brought about through the University of New Brunswick's (UNB) Summer Term in Europe (STEP), which allows students to put their education into action.
"The STEP program checked off all the boxes for me," said Grace. "It is a trifecta – to complete wildlife conservation work and travel to Europe while earning credits toward my degree. All of this really intrigued me to apply."
Students enrolled in STEP are assessed and matched with an appropriate placement that aligns with their academic interests. STEP locations in 2022 included various summer school programs in Austria, Denmark, Ireland, the Netherlands, France, a Conservation Research placement with Operation Wallacea in Croatia or Portugal and a Transportation Field School in Stuttgart, Germany.
"STEP is a great opportunity to experience something new that can be transferred into an academic or professional setting," said Luke. "We learned first-hand about reforestation, biodiversity, carbon footprint offsetting, rewilding and land management."
The STEP program is designed to support students from all disciplines and unlocks students' endless potential through life-changing global skills and gain invaluable work experiences.
"I was exposed to various jobs to pursue after graduation," said Grace. "I learned from so many interesting people from different educational backgrounds on my expedition. I remain in contact with fellow students from Portugal, London and Spain."
Along with conducting research and networking, students also learn new transferrable skills that may be applied to future areas of study or the workplace.
"I crossed scuba diving off my bucket list – this was one of the most exciting parts of the trip for me," said Luke. "I saw octopuses and starfish in their natural habitat, in beautiful crystal-clear water."
The STEP program is open to all UNB undergraduate students of all backgrounds and provides short-term structured summer school programs, research placements and a field school opportunity. It is an inclusive and equitable learning opportunity developed to help underserved demographics work and study abroad. Eligible students may receive up to $6,000 to cover expenses during their travel, including airfare, meals, accommodations, insurance and social events.
Students interested in the STEP program for Summer 2023 can contact Veronica McGinn (Fredericton) and Ase Kelly Berg (Saint John) by email at STEP@unb.ca or submit a form. Destinations for Summer 2023 are currently being finalized.
About Global Skills Opportunity
Global Skills Opportunity is a national outbound student mobility program expected to enable more than 16,000 Canadian college and undergraduate-level university students from across the country to acquire the global skills employers want and the Canadian economy needs. A key component of the Government of Canada's International Education Strategy, Global Skills Opportunity is funded by Employment and Social Development Canada. It is administered jointly by Colleges and Institutes Canada and Universities Canada.
Media contact: Kathleen McLaughlin