UNB renews exchange agreement with HFT Stuttgart
Author: UNB Newsroom
Posted on Sep 28, 2022
Category: UNB Fredericton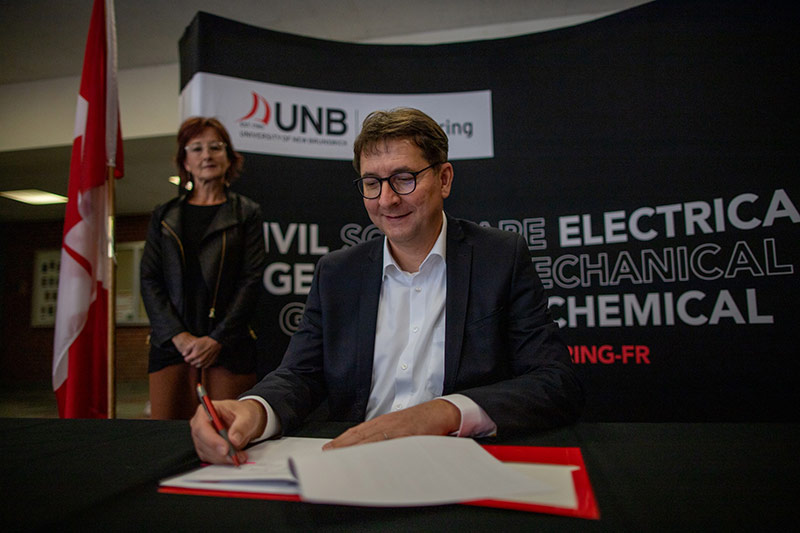 Through community and institutional collaborations, students at the University of New Brunswick (UNB) are equipping themselves with the knowledge, skills and experience to adapt and thrive in a world marked by change.
One of those collaborations is with The Hochschule fur Technik Stuttgart (HFT Stuttgart) located in Germany. Since 2013, UNB has had an exchange agreement with HFT Stuttgart, allowing students to go freely between universities and engage in an international experience. Many students participating in the exchange are civil engineering students studying transportation, which is a common area of study at both universities. On Sept. 23, representatives from UNB and HFT Stuttgart renewed this agreement.
On hand for the signing of the agreement was Dr. Kathy Wilson, vice-president academic (Fredericton) at UNB and Dr. Lutz Gaspers, professor and vice president at HFT Stuttgart. Dr. Trevor Hanson, professor of civil engineering and coordinator of the UNB Transportation Field School was also present.
The UNB Transportation Field School is a fundamental part of the HFT Stuttgart agreement. Students enrolled in the field school can attend HFT Stuttgart each spring to engage with German students to learn and present various aspects of each other's transportation system. In addition to workshops and demonstrations, UNB students visit various transportation-related sites across the city, such as the Mercedes Benz Museum, the Stuttgart TV Tower (the first concrete tower in the world), the Zeppelin Museum and a tour of the largest construction project in Europe, Stuttgart 21.
"UNB is the birthplace of engineering education and Canada's engineering industry," said Dr. Wilson. "Educating highly qualified engineering leaders who will impact, invest and innovate areas of growth will shift the future of our province."
"Experiential opportunities like the Transportation Field School shape our graduates into engaged, critical thinkers with the skills to support communities, tackle grand challenges and reach their personal and professional goals," she said. "When we partner with institutions like HFT Stuttgart, we provide our students with a unique way of understanding while building connections."
"HFT Stuttgart is pleased that the long-standing partnership with the University of New Brunswick has been further strengthened by the renewal of the cooperation agreement," said Dr. Lutz Gaspers, vice president, HFT Stuttgart. "Both universities have comparable undergraduate and graduate programs in which students can have their academic achievements recognized by the partner university."
"For students, researchers and teachers, the cooperation between our universities is an excellent opportunity to work in an international context," he adds. "We are not only pursuing the goal of deepening relationships and increasing the frequency of exchanges, but also establishing joint collaborative projects."
Media contact: Angie Deveau