SGS Congratulates 2023 3MT Winners!
Author: Andrea
Posted on Apr 3, 2023
Category: News and Events , Student Stories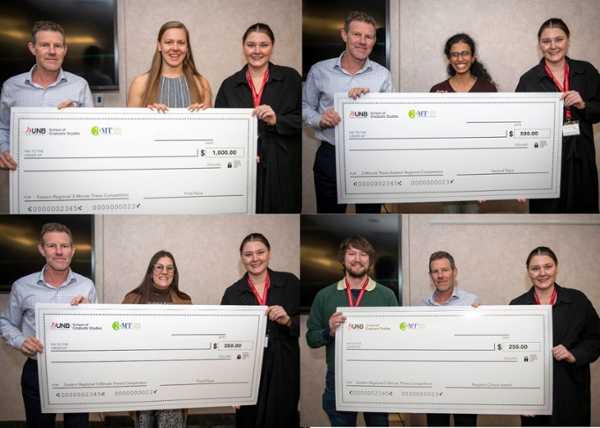 ---
The School of Graduate Studies warmly congratulates the winners of the 2023 3MT competition! Joining the winners in the above photos are Dr. Erin Morton (acting Associate Dean of Graduate Studies) and Dr. Kevin Englehart (Associate Dean of Graduate Studies)
 First Place: Jennifer Moore, Psychology, "Impact of noise on territorial defense behaviour in Hermit Thrush (Catharus guttatus)"
 Second Place: Anjana Gayathri Arunachalam, Electrical and Computer Engineering, "User priority based optimal prosthesis tuning"
Third Place: Rosie Leggott, English, "Losing It: A Play About Wrongful Convictions and The Canadian Justice System (1950-1975)"
People's Choice: Kelton Ireland, Mechanical Engineering, "Design and Production of Enhanced Filter Material"
As our winner, Jennifer, will represent the University of New Brunswick at the Atlantic Regional 3MT competition at Dalhousie University on June 13th! 
Once again, warmest congratulations to this year's participants for these excellent presentations.