Spartans starting setter signs with Seawolves
Author: S. Guimond
Posted on Jun 8, 2021
Category: Volleyball , ACAA , Varsity Sports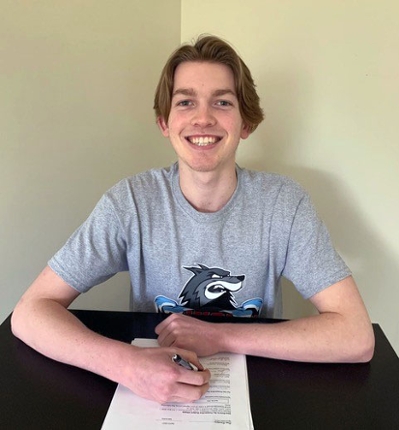 ---
Liam McLellan has officially signed with the Seawolves Men's volleyball team for the 2021-22 varsity season. Liam's hometown is Fredericton, NB where he has been the starting setter for his club team (Spartans) for the last three years, won a provincial title with them in grade ten, named All-Star in grade 11 and played on Team NB since 2019. He will be graduating from École Sainte-Anne where he is team captain for the Castors who are currently undefeated. Volleyball means a lot to Liam since he has put in countless hours of work, and it pushes him to constantly set goals and improve his skill. His passion for the sport is driven by his love of the game, he enjoys seeing the culmination of team success and has a strong desire to win.
"Volleyball gives me the opportunity to display my competitive nature".
His goals as an athlete for the upcoming season are to consistently improve his talents while adapting to a new level of volleyball. He wants to make the most out of any opportunity he is given and has an appetite to help his team succeed. Liam's abundance of experience in the club, high school and provincial competition setting will undoubtedly be an asset for the team as they hit the floor. He knows how crucial his dedication will be to achieve his goals and has a great mentor on his side. Liam's father is his biggest fan and has given him support and guidance on how to develop an elite work ethic throughout the years.
Liam will be taking the Bachelor of Sciences program once he arrives in the fall and aspires to become a doctor. He chose UNB Saint John because it felt like the right fit as the academic and athletic opportunities lined up perfectly at a location that is not too far from home. His outlook is that he gets to take his ideal program while still playing the sport he loves, and he is excited to be a part of the team.
 Head Coach, Dino Karatzios, contacted the Spartan coach who quickly recommended Liam as a strong candidate for the Seawolves team. Additionally, current players on the team suggested him as well, they spoke very highly of him. Despite the Covid pandemic, Coach Karatzios was fortunate to see Liam play against the Seawolves in an exhibition match. Liam was able to showcase his speed and good hands as a setter with great intelligence on the court. He has a reputation of being a hard worker and a great team player, his education and personal growth are of great importance to him. Coach Karatzios notes that the Liam's methods match well with the team's philosophy, and he feels he will be a great fit with the squad.
"He will be a great addition due to his commitment to hard work as well as the love of the game. His club coach told me that he will push our existing setters to be better. There is no doubt he will become one of the leaders on our team. Once he learns our system and gets familiar with the league, I expect Liam to have some court time this year."
Welcome to the Seawolves Family Liam.