High performance athlete signs with Seawolves Soccer
Author: S. Guimond
Posted on May 6, 2021
Category: ACAA , Soccer , Varsity Sports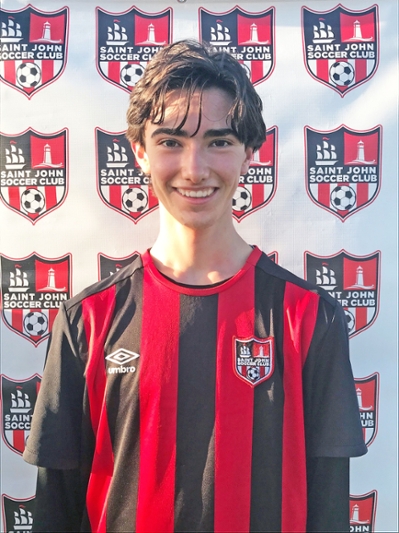 ---
Matthew Harquail has officially signed with the Seawolves Men's soccer team.
Matthew comes to us from Rothesay, NB as a St. Malachy's Memorial High graduate. He is a high honors student and played on the Varsity soccer team, in addition to having played rugby and badminton for his school. He is currently the captain of the Saint John Soccer High Performance winter team and this summer he will be playing U17 AAA soccer.
He has a great love for soccer as he feels it creates a safe space for him, it allows him to be creative in his style of play and challenges him to try new things. It has taught him leadership skills, team skills, improved his work ethic and has overall made him a better person and athlete.
"My goals as an athlete include my desire to grow in skills as an individual and increase my knowledge of the game."
His biggest inspiration comes from his role model, Cuilean Hendra, who has been his coach for several years. His immense passion for the game and success of his players is unmatched. Cuilean has truly motivated Matthew to be the best soccer player he can be.
Matthew wants to contribute to the success of the Seawolves team, become a team leader on and off the pitch, all while taking the Bachelor of Health program to eventually become a family doctor. He chose UNB Saint John for the exceptional Health program and the opportunity to play soccer for one of the top teams in the ACAA. His ability to continue to participate with the Saint John Soccer Club by attending a school that is close to home is another reason for his choice of post-secondary education.
Recruiting Matthew was a team effort by the Seawolves soccer coaching staff as they discovered him through the Saint John Soccer high performance program.
"Matthew showed us that he has a good range of passing abilities and a hunger to win games for his team".
The Seawolves coaches feel that Matthew will give the squad quality depth while pushing his team mates to be better on and off the ball. His consistent passing skills will help the team break down the opposing teams.
Welcome to the Seawolves Family Matthew!