Seabees to Seawolves: Szemerda commits to Men's Basketball
Author: S. Guimond
Posted on Apr 28, 2021
Category: Varsity Sports , ACAA , Basketball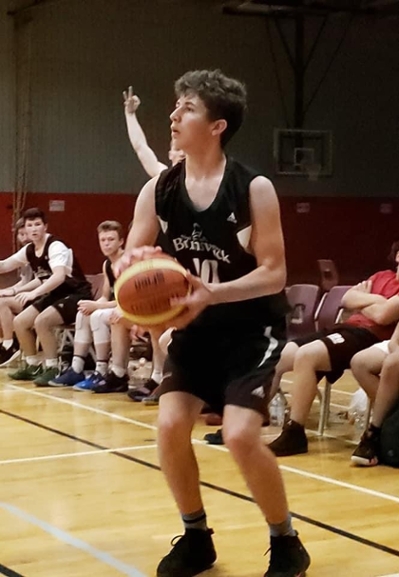 ---
Ethan Szemerda has officially signed with the Seawolves Basketball program. Ethan began playing basketball at the age of six and his passion grew from there. His competitive skill and drive have won him several awards over the years. His biggest accomplishment so far is playing for Team NB for two consecutive years and would have been a prospect for U17 prior to the Covid pandemic. In addition, he has played three years for his varsity basketball team at Simonds High and was top scorer in grade 12. Ethan, being a multi-sport athlete (basketball, football, soccer, volleyball, badminton and baseball) has developed his athleticism a huge amount, his reception of Junior Male Athlete of the Year speaks to his growth. Not only is he a great athlete, but he also prides himself on his academics by maintaining High Honors throughout his four years at Simonds High.
"My passion for basketball comes from the opportunities that the game has given me."
Ethan mentions that basketball has allowed him to meet people, build friendships and is a sport that he continues to work on and get better at every day. He loves being on the court with his teammates while having fun with a drive to win. His goals for this season are to work hard, be a competitive player, further develop his skills with his new team and of course, win.
Once Ethan begins his post-secondary education he will be studying for a Bachelor of Arts degree. His plan will be to take his education to law school to fulfill his career aspirations to become a corporate lawyer. Of the many reasons he chose UNB Saint John, family support was at the top of the list. Naturally, his biggest role models are his family members who taught him how to achieve success and to be a good person. Ethan is grateful for his family that continues to back him on his academic and athletic decisions. His choice of school was also impacted by his time spent with the Seawolves team. Ethan was introduced to the team dynamic and was able to learn more about them, which further solidified his decision in choosing UNB Saint John.
"Having a close-knit family and staying home allows me to have a wide support system while maintaining a high-quality education."
Head Coach, Peter Vincent, notes that Ethan has been on his radar for quite some time. He offered Ethan some off season opportunities prior to Covid in which he took full advantage of. Since Ethan is a local athlete, it has made it easier for him to keep an eye on his progress as a player. Coach Vincent keeps in touch with the Simonds High coach and receives regular updates on players that have what it takes to play for the Seawolves.
"Ethan has size, athleticism and skills that have put him among the best players in the high school league this season. His continued development should be a nice bonus for us this coming season."
His skill set will be a great addition to the squad and Coach Vincent is looking forward to having him join the team. There will be a great opportunity for Ethan as a local athlete to work out with the Seawolves over the summer which will allow him to jump right in with ease.
Welcome to the Seawolves Family Ethan!