Player of the Year commits to the Seawolves
Author: S. Guimond
Posted on Apr 21, 2021
Category: ACAA , Varsity Sports , Volleyball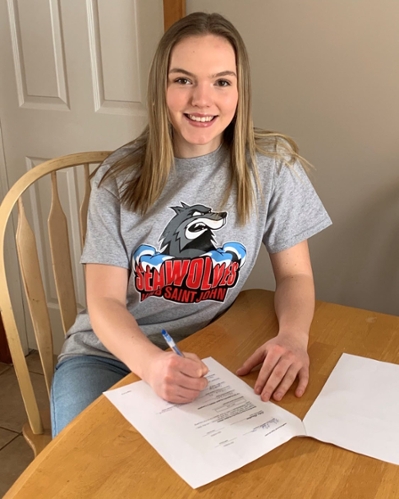 ---
Jenna Cyr has officially signed with the Seawolves Women's volleyball team. Originally from Stratford, Prince Edward Island, Jenna has had quite the athletic career at Charlottetown Rural High in both basketball and volleyball. Jenna played on the AAA team for both sports and won the PEI Female volleyball player of the year for her age division. As for her leadership roles in sport, she was captain for her school's volleyball team and captain of Team PEI at the U16 Canada Cup in 2019. Lastly, her being on the Canada Games Beach Volleyball training team gives us a great understanding of how much she loves volleyball. Not only is Jenna a great athlete but a great student as well, she received high honors throughout her entire academic career in high school. 
"Being successful in sport to me means to push beyond where others are willing to go."
Jenna uses the volleyball court as an escape, a place where she can push herself to become a stronger athlete and leader for her teammates. She strives to be a dependable and resilient player for her coaches to rely on to get through some challenging situations on the floor. Jenna's goals as a first-year player are to create lasting bonds with her teammates and to learn as much as she can from them and her coaches. Her plan is to develop as a key player and a strong leader on the squad. She often boasts about her biggest role model, Lynn Boudreau, who is the head of Sport PEI, coach of the Canada Games Beach team and co-owner of Island Surge volleyball. Lynn has been a huge inspiration for Jenna throughout her development as a volleyball player. What she admires most about Lynn is her ability to push athletes to do their best and to never give up. Jenna mentions that Lynn is a strong voice for female athletes in Canada.
"I hope to one day make even a fraction of the impact that she has made on PEI Sport."
Jenna will be taking the Nursing program at UNB Saint John and she chose the campus because of a combination of the athletic and academic programs she feels to be a great fit for her. She wanted to stay close to home while playing the sport she loves, and she feels that UNB Saint John is the perfect school for her to do that. Jenna's career aspirations are to apply to medical school once she completes the nursing program. She has her sights set on becoming a family doctor.
"I am beyond excited to gain new experiences and meet new people."
Head Coach, Colin Chambers, received communication from Jenna's coach early last fall. He then researched her profile on the Sportsmatch website to learn more about her post-secondary plans. Jenna sent Coach Chambers as much video footage of her play as she could produce given sport restrictions. They were in regular email contact over the next few months until she had a virtual interview with him and his assistant coaches, Gina Lonati and Carl Settle. It was easily determined that the Coaches wanted a student athlete like Jenna involved with the Seawolves Volleyball program. Coach Chambers feels that Jenna is someone who will work hard and contribute to the positive team culture that has been built this season. The coaches enjoy her focus on the process of getting better, rather than just the outcomes. He expects that her work ethic on the court and in the weight room will inspire her teammates to commit an even greater level of effort than they have in the past. Her academic focus should allow her to fit right in with the historically high standards among our athletes. Her attitude gives the coaches confidence that she will grow into an important role on the team and within the UNB Saint John community, beyond her performance on the court.
"Her passion for defense will add depth to our serve receive and her versatility will allow her to contribute in a number of ways."
Welcome to the Seawolves Family Jenna!