New UNB research program working to save the environment while saving on costs
Author: UNB Research
Posted on Aug 11, 2021
Category: Research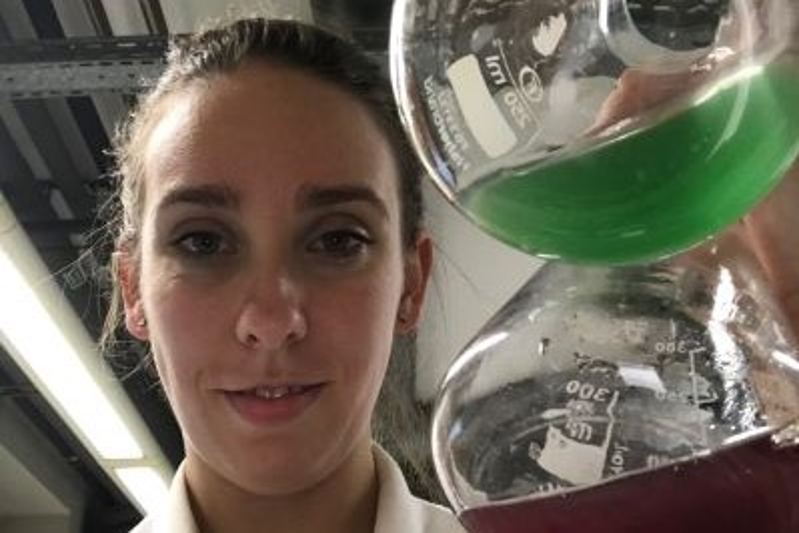 ---
Making contaminated soil and water safe for human use is a complex and expensive process, but University of New Brunswick researcher Dr. Allison Enright is exploring a better way forward.
Dr. Enright is an earth scientist and assistant professor in the faculty of science whose research is centered around the development of sensor-based environmental monitoring systems.
The unseen complexity of our world:
Dr. Enright is intrigued by the complexity of environmental and earth systems. She is interested in the interactions between chemistry, physics and biology, particularly those of microorganisms that are too small to be seen with the naked eye.
"A lot of the models we have for understanding the physical world don't necessarily hold up when we include the influences of biological activity on those chemical and physical processes, so that line of inquiry is what's motivated me as a researcher pretty much since I started my studies."
In addition to shaping Dr. Enright's individual research journey, this holistic approach to understanding the world around us may also shape our approach to environmental decontamination in the future.
In 2005, Canada launched the Federal Contaminated Sites Action Plan (FCSAP) which supports various site assessments, environmental remediation activities as well as care and maintenance. Initially a 15-year program with $4.54 billion government funding, the program was renewed in 2020 for an additional 15 years. For 2020-2024, $1.05 billion – more than 90% of the program's $1.16 billion total budget – is allocated to remediation, and a further $24.3 million has been allocated to site assessment.
Dr. Enright's innovative approach offers cost-effective and time efficient solutions to current processes:
"Being able to use sensor-based approaches to essentially look after and monitor these sites in the long term will mean a huge reduction in cost, which means we can use those funds for more active remediation and actually getting these sites back to the point where they are usable," said Dr. Enright.
Water is home to many living things, including bacteria:
Dr. Enright's cutting-edge research has earned her $150,000 in funding from the Canada Foundation (CFI) for Innovation's John R. Evans Leaders Fund (JELF). Additionally, the support has been matched with $150,000 from the New Brunswick Innovation Foundation (NBIF), as well as an investment of $71,449 from UNB to subsidize the research program.
The JELF and matching funding has supported the implementation of a sensor-based monitoring system in the region. The knowledge generated from it will help determine whether water is safe to drink or is at risk for bacterial growth, if wetlands will be affected by climate change and the amount of time that is required to decontaminate a compromised site.
Dr. Enright explains that having access to these funds has provided state-of-the-art tools that make it possible for her lab carry out such detailed studies:
"Winning the JELF at this point, early in my career, is really exciting because it's given me the capacity to build an extremely strong research program right out of the gate now that I've arrived at UNB."
Thanks to the new infrastructure, Dr. Enright has already began studying blue-green algae in the Wolastoq, officially known as the Saint John River. Blue-green algae, also known as cyanobacteria, has been an on ongoing issue posing health risks to New Brunswickers, pets and wildlife, with a provincial public health advisory issued on the Saint John River in 2019 remaining in effect today.
With Dr. Enright's equipment and research, data about the bacteria's location and how certain changes impact growth, toxicity, and behaviour can be identified. With a better understanding of blue-green algae and greater awareness of where it occurs, the public can be better protected from its harmful effects.
The lab's research work is not limited to this particular waterway or to cyanobacteria, either, and has broad applicability for other areas. Another active project, being led by MSc student Regan Worden, is undertaking a study of the Grand Lake Meadows wetland, which will be compared to the study conducted upon its creation.
Though the research program offers a multitude of projects and possibilities, for Dr. Enright, making the world better, safer and healthier for present and future generations remains an important goal.
"This investment will help us work towards remediating and rehabilitating contaminated sites, so they can be redeveloped and used safely by their communities," said Dr. Enright.


More information
Dr. Allison Enright (orcid) | Department of Earth Sciences | Faculty of Science
Research at UNB | Graduate Studies at UNB | Postdoctoral fellowships
Related Pages: UNB researchers supported by federal, provincial funding to better understand the natural environment and quantum physics