UNB researchers supported by federal, provincial funding to better understand the natural environment and quantum physics
Author: UNB Newsroom
Posted on Aug 11, 2021
Category: UNB Fredericton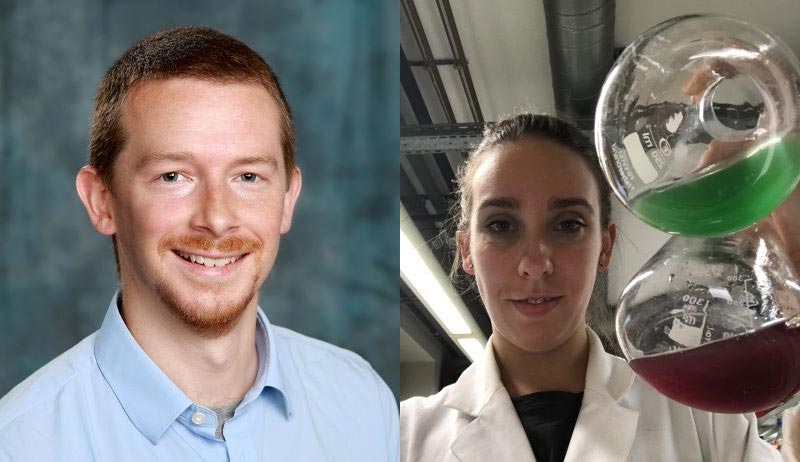 Two University of New Brunswick researchers have been awarded $450,000 in external funding in recognition of their innovation and research potential.
The Canada Foundation for Innovation (CFI) announced the 2020-2021 recipients of the John R. Evans Leaders Fund (JELF) on Aug. 11. The CFI JELF supports strategic investment in research infrastructure, enabling researchers and institutions to undertake leading-edge research, innovate new technological solutions and recruit and retain talented and visionary individuals.
Among those recognized were UNB faculty members Dr. Allison Enright, an assistant professor of earth sciences, and Dr. Brynle Barrett, an assistant professor of physics. Each researcher was awarded $150,000 by the CFI toward their respective projects.
"Thanks to the support of the CFI and the New Brunswick Innovation Foundation, UNB's research community will be better poised to tackle pressing challenges facing our natural environment and innovative opportunities to delve deeper into the unknown," said Dr. David MaGee, vice-president (research) for UNB. "Congratulations to Dr. Enright and Dr. Barrett on your success; I look forward to hearing about their research breakthroughs in the years to come."
Dr. Enright's research focuses on developing tools for studying environmental systems, particularly through the use of passive sensors.
The $150,000 in JELF funding awarded to Dr. Enright will support the establishment of next-generation water monitoring capacities, including assessing the quality of potable water, estimating timelines for remediation of contaminated sites, and evaluating the potential impact of climate change on wetlands. With the recent rise in blue-green algae concerns in New Brunswick, this infrastructure is also helping UNB researchers understand and solve pressing challenges faced in our communities.
"By using sensors to monitor microbial processes directly in their environment, we can better understand what microbes actually do," said Dr. Enright. "With the new infrastructure, we've already started a collaboration with Dr. Janice Lawrence and UNB's Canadian Rivers Institute to study toxic cyanobacteria in the Wolastoq, providing geochemical measurements for the cyanobacteria environment, and how changes in chemistry impact its growth, toxicity, and bloom behaviour."
Dr. Barrett will establish QSUM, a new laboratory for Quantum Sensing and Ultra-cold Matter, thanks to $150,000 in JELF funding. The laboratory will primarily support Dr. Barrett's work in experimental atomic and optical physics, with potential applications including positioning, navigation and timing, as well as geophysical sensing and surveillance. Building from Dr. Barrett's research and development experience overseas, the QSUM laboratory will incorporate a custom-built system of specialized lasers and ultra-high vacuum components that can cool atoms to near absolute zero. At these low temperatures, particles behave more like waves, and this property can be used for high-precision measurement of gravity and electromagnetic fields.
"It's wonderful to be back in Atlantic Canada after so many years abroad, and to bring the expertise and knowledge I learned from global leaders in this emerging domain," said Dr. Barrett. "This area of physics will lead to next-generation quantum technologies that are relevant to several different industries. As one of the few Canadians working in this area, I am thrilled to create a new group at UNB that will help establish a leading role for Canada in this exciting field."
The $300,000 investment from the Government of Canada was matched with an additional $150,000 in confirmed funding from the New Brunswick Innovation Foundation for Dr. Enright's project, and further supported by an investment of $148,242 from UNB from startup funding to help new faculty establish their research programs.
"Our researchers have always thought big. Now, more than ever, they need state-of-the-art labs and equipment to turn their visions into reality. Investing in our university research infrastructure is key to our continuing role as an innovation leader in wide-ranging fields, from Indigenous research to quantum computing, from neurobiology to advanced robotics. These investments will not only support our ground-breaking contributions to science and research but also improve our economy, environment and quality of life," said The Honourable Francois-Philippe Champagne, Minister of Innovation, Science and Industry.
"From developing sustainable building materials to creating new laboratories based on Indigenous principles and community engagement, these awards support essential and urgent research. With the necessary spaces and tools, Canada's researchers will play a meaningful role on the global stage and contribute significantly the quality of life today and for generations to come," said Roseann O'Reilly Runte, president and CEO, Canada Foundation for Innovation.
"We are delighted to see these two researchers funded by the CFI, and we look forward to seeing the impact of their innovative research in the province. Dr. Enright's research offers an opportunity for New Brunswick to strengthen its expertise around one of our key natural resources, and Dr. Barrett's award underscores our decision to help to recruit this rising star to the province in 2020," said Dr. Laura Richard, director of research for the New Brunswick Innovation Foundation.
Media contact: Jeremy Elder-Jubelin
Photo: Dr. Brynle Barret and Dr. Allison Enright